When creating a video, it helps to have a roadmap or guide to stay on message. That's why video content creators often design and maintain storyboard templates that provide a starting point and allow them to create videos efficiently by helping to outline key aspects of the story. Without a proper video storyboard, it would be easier to go off-topic, lose sight of the central theme of your video, or impact pacing.
A video storyboard is a tool used by video creators to plan out and visually represent the key points of their videos. It's like a map for your video, helping you plan what to include and in what order. You can think of it as a guide that will help you stay on track as you work on your video. Video storyboards help you organize your thoughts and figure out what scenes you want to include in the video. They can be used as a communication tool to share your vision with collaborators and ensure that everyone involved in the project is on the same page.
The value of video storyboards can't be overstated, which is why storyboard templates can be so valuable. Storyboard templates help you create videos more quickly and maintain consistency for the types of videos you create, from educational videos, to business videos, personal use, and more.
If you want to create a storyboard template for video collaboration, you can use ScreenPal's interactive Stories tool. Stories allow you to create storyboard templates, streamline video creation, boost creativity, and collaborate more easily with other team members. Available with all paid plans, Stories is an essential tool for all video content creators.
This article describes the benefits of using a storyboard template for video collaboration and how to create a storyboard template using the ScreenPal Stories tool.
Benefits of using a storyboard template for video collaboration
Collaborating with a storyboard template can be a great way to plan a video project with a team. By creating a storyboard, you can map out the video scene by scene, plan the shots you need, and decide what order the video should be in. Furthermore, you can improve efficiency and speed up your production time if you create storyboard templates using Stories. Below, we describe the benefits of using a storyboard template for video collaboration.
Consistency
Consistency is key when you're responsible for creating videos for your organization. You want your videos to have a similar look and feel to match your brand, and learners benefit from consistent structure across educational videos as well to become more familiar with what to expect from the content and pedagogy. But when you're working with a team of people, it can be difficult to ensure everyone is on the same page, especially regarding the creative process.
Creating a branded storyboard template for your team to use is a simple way to ensure that your videos are consistent with your brand. You can control the template's look and feel to match the style of your other marketing materials and list specific sections to include information for in the video. And because the storyboard is a visual representation of your video, it can be a helpful tool for getting everyone on the same page.
You can even create video content, such as an intro or outro, in your storyboard templates using Stories, so they can already be included in each of your videos when you start working from the storyboard template.
Collaboration
When working on video projects, it is often helpful to use a storyboard template to map out the collaboration process. By doing so, you and your colleagues can more easily determine who is responsible for which aspects of the project and can better keep track of the project's progress. You can also share the storyboard template with your colleagues, enabling them to produce videos that match your guidelines and vision, streamlining the collaborative process. You can even include notes in the notes section of Stories to provide additional direction to team members.
Direction
When you create a storyboard template using the Stories tool, you can offer directorial notes for other team members collaborating on the project. You can add a script and notes for each video section in the storyboard to offer specific directions to other individuals, ensuring they follow a unified vision. Simply add prompts and notes, which can then be replicated by your content collaborators.
How to create a storyboard template using Stories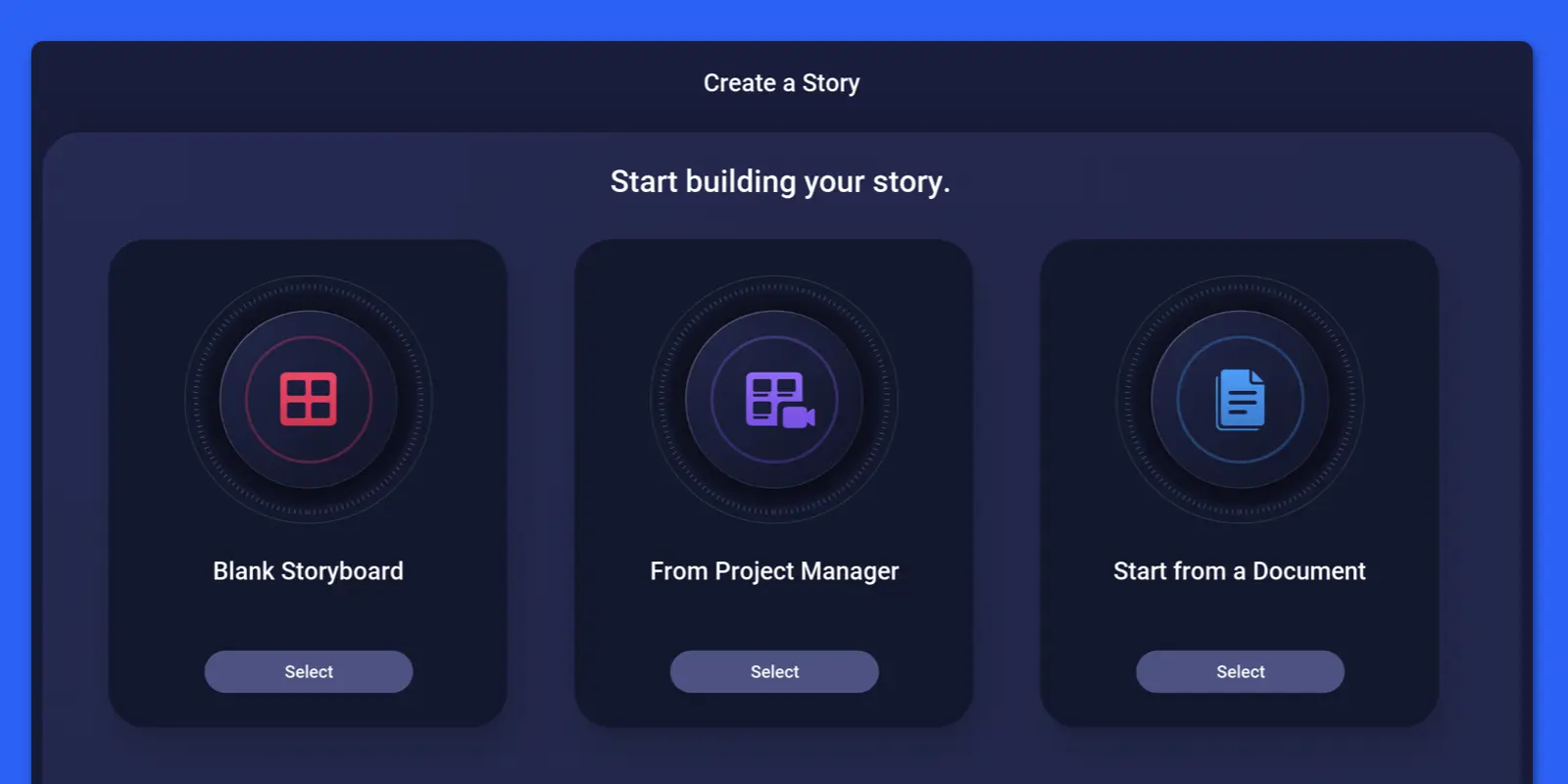 The Stories tool is great for creating storyboards for your project. You quickly import presentation slides to use as a storyboard template or you can create your own storyboard template.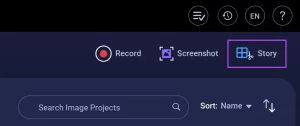 Creating a storyboard template is a breeze. Just follow these simple steps:
Log into your

ScreenPal account

.

Click

Open Video Editor

in the top right corner.

Click

Story

on the toolbar.

Go to

How do you want to start your story

>

Start with Storyboard

>

Blank Storyboard.

Click

Add Section

whenever you want to add new video sections.

Click

Add Transition

,

Add Audio

, or

Add Media,

depending on what you want to do.

Click

Script

or

Notes

to add directions, prompts, or other text for your collaborators.

Click

Done

in the bottom right corner to complete the Stories project.
You can now use this storyboard outline you've created as a template to start with when you want to create videos. The information you include in each template might vary depending on whether you are creating an educational video, tutorial video, promotional video, or other types of videos.
How to share your storyboard template with others
Storyboard templates can streamline video creation as you build new videos, but they can also be helpful for other team members who create videos as well. You can create a video storyboard template then quickly share it with others as well by exporting it from the project manager to send to other team members.

It's quick and easy to share the video storyboard templates you create using Stories with other team members. Just follow these quick steps:
If you were working in your storyboard template, click Back to Video Projects in the top left corner to return to your project page.

Click

Manage Video Projects

in the top left corner to manage your storyboards.

Click

Export

after selecting the storyboard template you want to export.

Select the destination where you want to save the storyboard template.

Share the storyboard template file with your team members via email, Google Drive, cloud storage apps, or other messaging apps to allow them to make edits.
How to import a video storyboard template
Stories is perfect for collaborating with your team on a video storyboard template. With Stories, you can easily add text, images, and even videos to create a storyboard for your video. Once you've created your storyboard, you can share it with your team and they can import it to use as well.

The following instructions describe how your team members can import the storyboard template for collaboration:
Log into your

ScreenPal account

.

Click

Open Video Editor

in the top right corner.

Click

Import

on the toolbar.

Select the storyboard file that's been shared by your team member.

Click

Open

.

Click

Edit

in the bottom right corner of the template.

Add new sections, images, music, narration, script, and text, and make other changes to collaborate on the storyboard template. Once done, you can save the changes and export the file using the steps mentioned in the previous section.
Benefits of building your video with Stories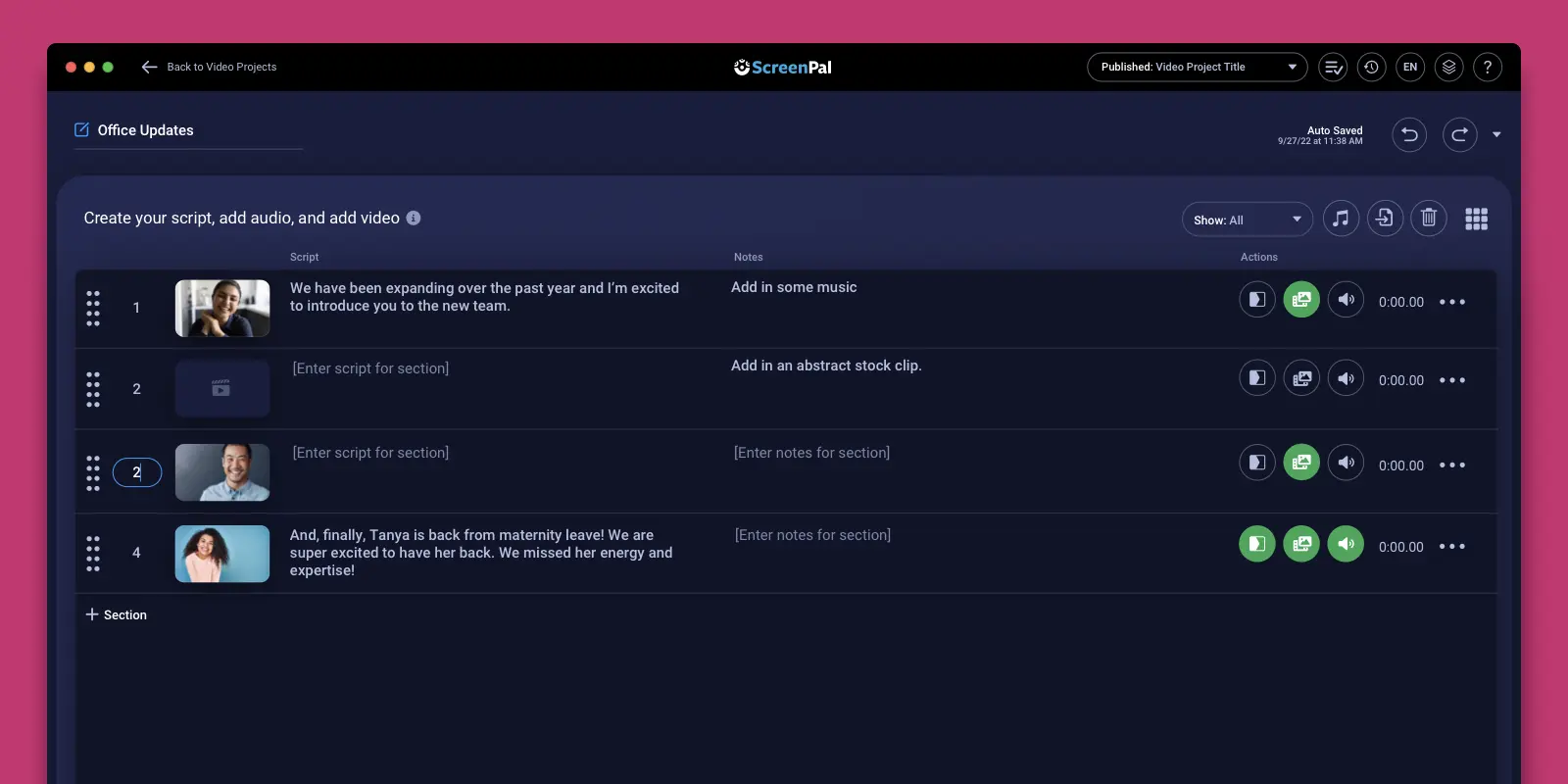 Whether you're creating videos for a business, personal use, or for educational purposes, Stories includes many exciting features that allow you to modify the storyboard template according to your preferences. Below, we describe how you can use different features to complete your video with the Stories tool.
New Sections
Adding a new section to your video is a great way to add more information or tell a different story. To do this, click the "more options" button at the top right of a video section, then click "add section left" or "add section right." This will add a new section in between the existing sections.
Script View or Storyboard View
You can easily toggle between Script View, which offers a text-focused approach to help you map the video, and Storyboard View, which gives you a visual representation of the template. As such, the Stories tool is suitable for people with different cognitive styles and preferences.
Drag & Drop
Use the easy-to-use drag-and-drop interface to quickly rearrange sections of your video to create a seamless, professional-looking final product. You can drag and drop different parts of your video, pictures, text, or any other element.
Webcam Recording
ScreenPal allows you to record your webcam footage and import it directly into the Stories tool. Start by testing your webcam. You can add sections of webcam recording to personalize the storyboard. Alternatively, you can use the picture-in-picture (PIP) mode to add the webcam footage to a small corner of the video.
Music & Narration
You can add music to different sections of the storyboard to enhance the viewer's experience. You can use the provided royalty-free music from our stock library, record your own music, or import music from your computer. You can also import narration for each section of the video.
Video Editing
Our integrated video editor allows you to use professional-grade editing features to fine-tune and edit your visual presentation. The video editor allows you to choose animated transitions and add voiceover narration. Overlay text and images, zoom in/out of certain areas of the video, import captions, and do much more. This is the perfect way to make your storyboard template pop.
Create your storyboard templates with Stories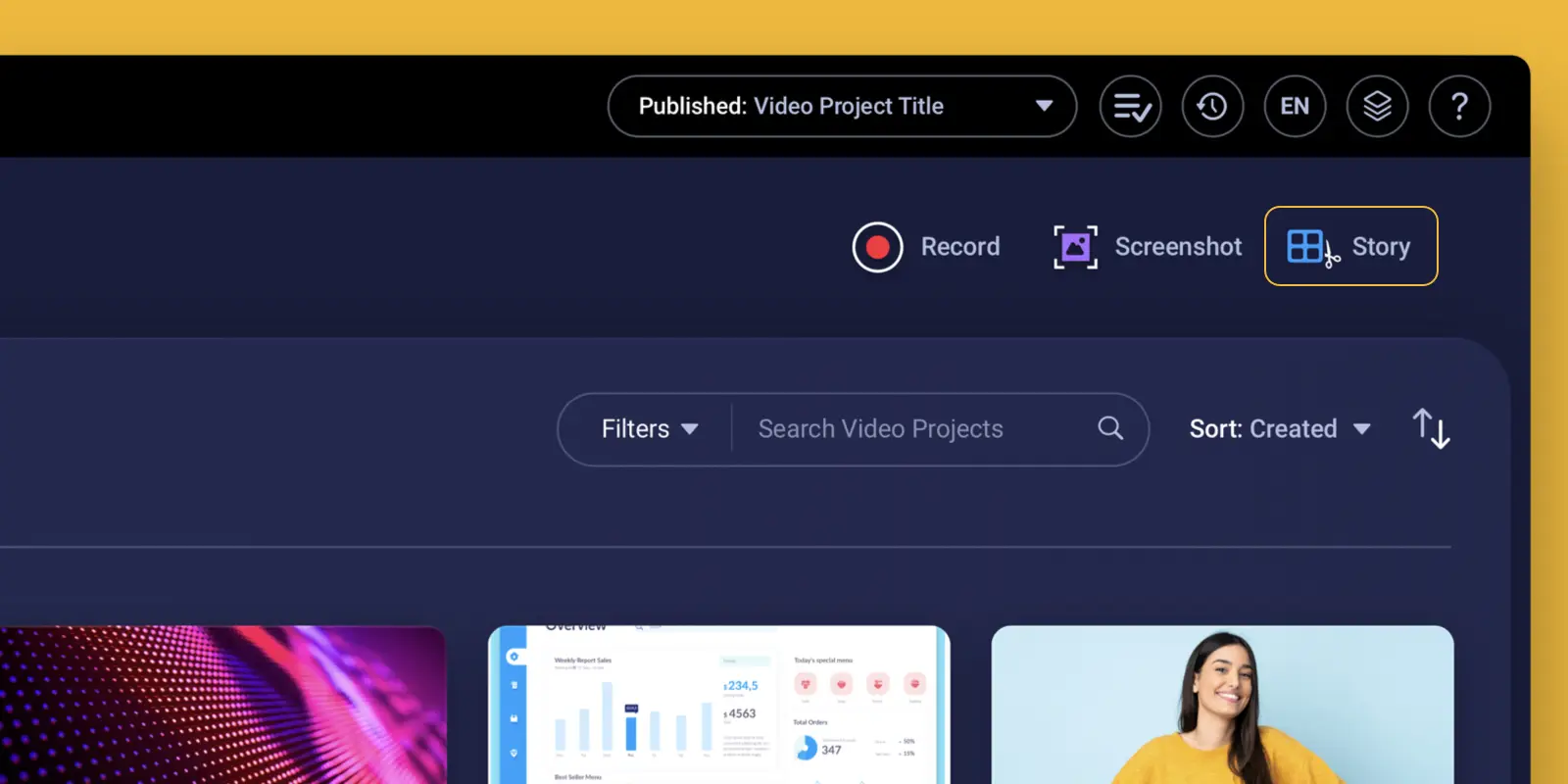 As the demand for videos increases, so does the need for new and interesting video content. This can be a daunting task for even the most seasoned video professionals. But with Stories, anyone can quickly and easily create unique storyboard templates for their video projects.
ScreenPal makes creating videos from slide presentations simple, making the video creation process even easier. With a few clicks, you can add your presentation slides, record your voiceover, add videos, music, transitions, and other elements, and create a beautiful video storyboard template that can be shared with other team members.
So, if you're looking for a quick and easy way to create unique storyboard templates for your next video project, give Stories a try.