While 2020 was a hectic year in education, the switch to remote learning gave rise to innovation, creativity, and improved EdTech tools.
The pandemic has ultimately forced EdTech to up its game. The changes EdTech has brought will continue to influence teaching.
As schools prepare for a return to schools, many are wondering which of these changes should play a greater role in student learning.
EdTech Trends of the Future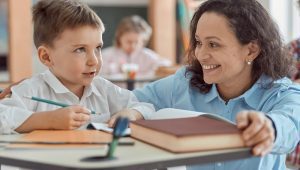 Before the pandemic hit, Big Data, Internet of Things (IoT), and Artificial Intelligence were some of the biggest education trends. While some of these may still play a role in education, remote learning drastically changed the way we teach and learn.  Educators and students were introduced to new platforms due to social distancing. Even with in-person learning in sight, the ability to teach and connect online continues to play a big role.  Let's take a look at the latest trends to hit education.  
1. e-Learning (also known as digital learning)
With all the rapid progress teachers have made in the past year, e-learning will likely stay relevant after the pandemic ends.  With e-Learning, content is delivered to learners through computers, laptops, tablets, and smartphones.  Students are given the ability to choose what they need to learn, wherever they are.  This flexibility encouraged students to learn at their own pace.  
The heightened focus on digital learning in 2020 resulted in more accessible learning for students who need it, digital (and therefore less expensive) course materials and textbooks, and greater acceptance of technology in learning overall.
Even though e-Learning has been around for awhile, it continues to evolve. Educators have more options to provide their students.  They are able to create a variety of content for online learning platforms.  They can teach students in real time (synchronous) or recorded (asynchronous) using a wide range of media including video.
2. Automate With Artificial Intelligence
With Artificial Intelligence, you can automate basic time-consuming tasks like grading.  AI makes it possible to grade multiple-choice tests or fill-in-the-blank assignments.  It's a huge time saver for educators who spend hours grading homework and tests.  
Looking ahead, we may start seeing AI tutors helping students. These AI-driven programs will be able to give learners helpful feedback with homework.  They can alert teachers about a students' progress or if there are issues in their learning. 
3. Analytics to Track Progress
Speaking of tracking student progress, today's advanced e-learning programs can alert you if a student is struggling. This gives you the opportunity to reach out with one-on-one video mentorship or feedback to help get them back on track. 
With analytics, teachers can see how students are progressing, and get a better idea of individual learning styles. Certain e-learning tools allow you to track which types of content your students interact with the most, which questions took them the longest to answer, or whether a student needs one-on-one support.
This data can also be shared with your school or district administration to help improve learning processes on a larger scale.
4. Big Data For Custom Learning Experiences
Education isn't a one-size-fits-all model. Each student has their own unique set of challenges and strengths. Luckily in 2021, teachers have access to more personalized data than ever before, and they can use it to create custom learning experiences for each student. Information like enrollment, student performance, and student feedback all provide helpful insights into student needs, problem areas, and growth.
Gathering student feedback is one easy way to incorporate data into your teaching. Come up with a few survey questions for your class. Next time you connect with your students via Zoom (either individually or as a group), record the call as you conduct your survey. Save the video for your own reference as you put together your lesson plans, or use our Zoom integration to open your video directly in the video editor. From there, you can cut out any unnecessary bits and share the finished product with your colleagues. Your research can help them better serve their students too.
5. Gamification to Keep Students Engaged
Looking for ways to keep students focused while learning from home? Gamification is your solution.
Even if you've never heard the term gamification before, you've no doubt experienced it firsthand through the apps on your phone. It's a way to make seemingly menial tasks feel fun and even competitive. That way you get a sense of accomplishment after completing the task. A great example of this is the language learning app, Duolingo, which awards you points each time you complete a lesson, thus turning language learning into a fun game.
There are many ways to do this with your students. Try including a few fun trivia questions in the next video lesson you create. You can even make it a competition to see who comes up with the answer fastest, and offer a prize for the winner. 
6. STEAM Education For Creativity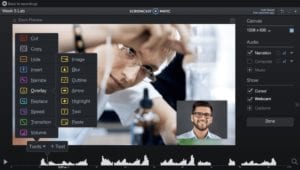 It's not just about STEM anymore. Educators are now adding more meaningful arts education into the traditional science, technology, engineering, and math curriculum. This addition of the arts helps students learn to think and solve problems more creatively. Students walk away with better tools to express themselves, collaborate with others, and take on complex projects.
You can incorporate STEAM in your classes by having students get more hands-on. Assign projects where students can use new concepts in unexpected ways. For example, instead of giving a lecture about geometry, make a screencast showing how a sculptor might use geometry to plan a new sculpture. Then have students try it for themselves. 
7. Social Media For Learning
Students as young as five are already experts at navigating mobile phones. Most are also heavily invested in their social media accounts. That's why it's becoming popular to incorporate phones and social media into learning. 
Students can create a folder on their home screens to save all their Google Classroom and Google Drive links for class, as well as a link to whichever communication tool your class uses to stay in touch. 
As for social media, platforms like YouTube and TikTok are popular with students, and useful for making and sharing educational videos like those from SciShow or TedED. You can even have students make their own videos to host on ScreenPal for their classmates to watch, or upload on social media for a chance to go viral.
8. Video Learning 
Video is the most engaged-with type of content on the internet because it holds viewers' attention. That's why video will continue to grow as an educational tool. From demonstrations to lectures, there are so many types of educational videos you can make using the Screen Recorder and Video Editor, no experience necessary. 
You can show those videos during class, or have students watch them on their own time so you can help them with assignments during class, as seen in flipped learning. Though flipped learning was picking up steam before the pandemic, it's only increased in popularity over the past year and will likely continue trending upward. Teachers using this method consistently report improved learning outcomes for their students.
Intuitive Budget-Friendly EdTech Tools
The quick switch to e-learning forced companies to create more intuitive and affordable EdTech tools. For example, ScreenPal released a Chromebook video editor so teachers can edit videos easily. Ease of use and affordability will be a top priority for EdTech providers. 
Which of these trends will you try with your students? Do you think they're here to stay?