Life just got better with the all-new virtual background feature. The virtual background feature allows you to blur or replace your video background. Now you can always be at the top of your game by looking like a pro in your videos. 
Record from anywhere, for any audience, at any time. You are always just a few clicks away from the perfect video background. And, the best part is that the new background removal and replacement feature is available in our free screen recorder and free video editor.
Build your brand
Virtual backgrounds are a great way to build, showcase, and reinforce your brand. Your brand is one of your most, if not the most, important assets. Whether it's your personal brand or your corporate brand, a virtual background is a great way to enhance your image while maintaining a professional appearance. This is a great way for real estate agents, influencers, and others to build brand recognition with your audience. You can even upload and display a custom brand logo image if you prefer.
Remove background: Record with confidence
Have you ever worried about what's behind you in the background while you are recording with your webcam? We have all been there.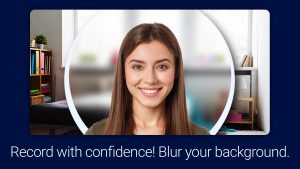 Now you don't have to worry about a cluttered kitchen, an unmade bed, or those frolicking little kittens. You can use the background blur option to wash away distractions of any kind. Want to spruce it up? No problem, you can always use a virtual background to replace your real background with a new, customized scene.
Enhance your presence
Dress for success by presenting a professional environment for your videos, such as an office or home setting for your webcam background. The better you look, the better you feel, and the more effective you will be for your video. Impress your audience.
Amplify your message
Virtual backgrounds are a great way to help make your video content stand out and become more impactful. Just select the image that best highlights your message and objectives. For example, if you are recording training videos for medical software, maybe a hospital background could enhance your content.
Know your audience
It's beneficial to customize each video for your audience to improve relevancy and get the best engagement. You can easily change the virtual background before or after you record. So if you change your mind on the background image, made a mistake, or want to target your video recording for a different audience, it's never too late. Just go into the video editor and update the background. In fact, you can display different backgrounds at different points in the video to emphasize your message. You can also create different versions of your videos with unique backgrounds that communicate to different clients, different industries, etc.
Full transparency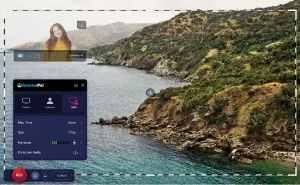 Don't want your webcam background to get in the way of your message? When you record both your screen and webcam, you have the option to fully remove your webcam background as well so you can interact with your screen recording content. The background subtraction feature makes your background fully transparent, allowing your audience to see more of your visual content. You can also drag your webcam to any position on the screen to provide better visibility of the information.
Get creative and have fun
The most important thing is to have fun! With virtual backgrounds, the options are endless. Let your interests inspire and guide you. Want to appear like you're in outer space or near a famous landmark? Go for it! You can upload your favorite photo, or take a screenshot with the screenshot tool. The world is your oyster.
Backgrounds are everywhere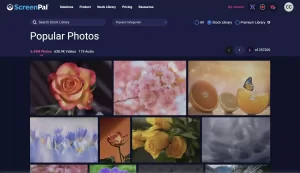 Your options for virtual backgrounds are plentiful. You can upload any image, graphic, brand logo,  and it works in concert with our existing green screen filter. ScreenPal provides a free sampling of licensed images for anyone to use. Premier plan subscribers have access to seven million images in our stock image library for even more options. New Max subscribers and Team subscribers also get our new Shutterstock collection of three million premium images.
We hope you're as excited as we are to get started with this great free virtual background feature. See you anywhere and everywhere!
Click here to get started for free.