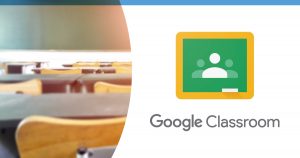 Google estimates approximately 30 million educators and their students use Google Classroom for classwork, communication, and collaboration for school. Classroom is an interactive educational platform allowing teachers to create courses, grade assignments, share files and folders, and view classwork in real-time.  The platform is easy to track and helps streamline workflow for teachers.
One of the biggest benefits of using Google Classroom is that it helps facilitate communication between teachers and students, providing an online space to teach, mentor, and give feedback to their classes.
Educators looking to take their classes to the next level are incorporating video into their teachings.  Many are using ScreenPal to create screencast recordings and videos to engage their students. Educators have been able to create tutorials, lessons, give feedback as well as mentor their students through the use of video.
It's easy to use ScreenPal with Google Classroom.  If you are currently using or looking into video for learning, read more on how to work with these two platforms.  There are several ways to integrate the video platform across Google services:
1. Google Account Access
ScreenPal has made it easy for anyone with a Google account to sign in to their account.  It's a one-click process to login to ScreenPal using the 'Login With Google' button.
Don't have a ScreenPal account? Don't fret! When you sign up for  ScreenPal, you can choose to log in with a Google account. All you need to do is connect your Google account.  Each time you log on, your credentials are saved. There is no need to re-enter your username or password or remember a different account login. With one-click publishing, it's easy to get quick access and connect to your Google account.
2. Upload Google Drive Files
All Deluxe plan users can upload their videos and recordings to Google Drive very easily.  If you are using Classroom, you can upload your videos directly into a specific Classroom Drive folder.  Your Google Drive folders will keep your videos organized and easy-to-find when you return to your class in Classroom.
Publishing and sharing your videos is easy on ScreenPal. There are multiple ways to share your videos.  You can share on ScreenPal, Dropbox, Vimeo Pro, or Youtube. You can also save video files on your computer.
3. Sharing Made Easy with Google Classroom Share Button
Another great option is to share your recordings or videos with the 'Google Classroom Share Button.'  Directly after uploading your screencast, the button will appear allowing you to share your video with the class.
If you want to save your video for later, you can use ScreenPal's hosting management services to store and share your video.  The 'Google Classroom Share Button' is included with every video. This makes sharing easy for teachers, just click the link button on the video.
4. Google Suite For Education: Google Docs, Sheets and Slides
You can easily create videos or screencasts and share them directly on any of the Google apps including Google Docs, Google Sheets, or Google Slides.
When you want to share your video on any of these apps, you can upload your video and obtain a link to publish on the apps.
You can also create an engaging video by showcasing a Google Slides presentation.  Use the screen recorder and create a screencast using your presentation.
If you have data you would like to share with your class, you can add a video link to any columns on Google Sheets.
5. Video Tools For Students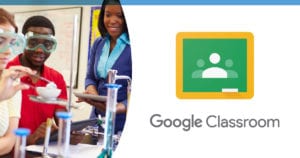 Students have the ability to communicate and collaborate with each other and teachers using Google and ScreenPal.  As a student, it's not necessary to have a ScreenPal account to create or edit screencasts. Students have access to the screen recorder and video editor without having to create an account.
Schools that don't want to create student accounts but still want to host teacher videos can take advantage of Team Premier Hosting.   One of the features of Premier gives teachers the option of adding a screen recorder button to a video channel where students can create videos and only upload to that teacher's channel on ScreenPal.  The teacher has full control of the video and any associated sharing.
It doesn't have to be teachers creating videos, students can do it too. There are a number of creative ways for students to use video.  Educators can assign video as an assignment or project for class. They can create their own newscasts or showcase their project as a video tutorial.  The options are endless when you give students the power to create their own videos.
If you have a hosting account with ScreenPal, you can manage privacy permissions for class videos.  It's an easy way to share and manage videos. You have full control of what your students are creating.
Collaborate Anytime, Anywhere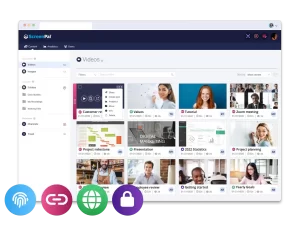 With more educators using Google, it's more important than ever to provide an online video platform that easily integrates into Classroom teachings.  ScreenPal can easily be accessed anytime, anywhere (as long as there is an internet connection). You can also download the installation on any laptop to create and edit offline.
Educators have the ability to work on multiple devices using just one account.  You can use a PC, Mac, Chromebook, or your mobile phone to record and edit videos.  You can also share your video links from any of these devices and give students the ability to watch your videos anytime.
Creating and sharing videos with your students has never been easier!