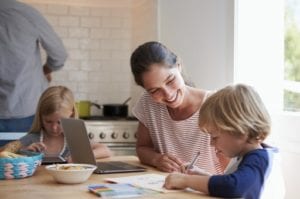 If you're a parent seeking an alternative to traditional public schooling, you aren't alone. Many parents hesitated even before the pandemic, with 91% citing issues like bullying as safety concerns. Public schools can also present challenges for special-needs students — in fact, 16% of parents who homeschool do so to accommodate learning differences. Now, the pandemic adds a whole new wrinkle for children with special medical needs or legitimate fears of the virus's lingering effects.
Despite fears that distance learning could disrupt a child's educational progress, many children take naturally to this medium. It enables those who need extra time to review lectures and course material until they feel comfortable. 
However, you as a parent determine how enriching your overall experience is for your child. We've put together six tips for creating an interactive homeschool environment that will engage your child regardless of their unique learning style.  At the same time, we show ways to make learning fun. 
Utilize Technology and Video Resources
One of the advantages of using technology is providing your child with real-world practice at the type of skills most likely to benefit them in their future careers. Homeschooling offers the opportunity to teach your child to code or produce multimedia presentations that they may someday.
There are many online tools in the marketplace that help students in the learning process.  Students are able to show their creativity by creating presentation slides, graphics or images, and videos.  
Videos can be an essential part of the learning process.  You can have your child create videos for learning.  Have them record their own screen and explain how they got answers to a test.  They can create their own video tutorial of their favorite online game.  You can also assign them a video project to complete using a free video editor. There are many ways you can use video as a learning tool.  
The best part is that many of these online tools are free or available at affordable prices.  So preparing your homeschool setup no longer has to cost a fortune.
Collaborate With Your Student In Your Homeschool
Another unique feature of an interactive homeschool is the opportunity to collaborate with your student. While they may be in K-12, they can still get a jumpstart on their future careers by personalizing their track.
For example, if your child plans on a computer career, you can sign them up for courses on coding. Sites like Udemy feature such courses at affordable prices, often less than $10. Those who thrive on the arts can virtually travel to various locations including museums.
The best part is involving your child in the decision-making process. Unlike traditional schools that only offer one or two learning pathways, your interactive homeschool can offer whatever your child wants to pursue.
Utilize Hands-on Learning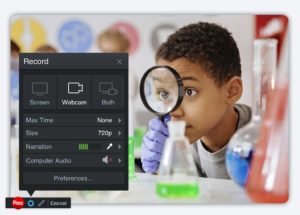 The right homeschooling resources bring hands-on learning to life.
For example, it doesn't cost much money to set up a basic science lab. You can find inexpensive safety goggles and smocks at many department stores. Other items, such as baking soda, vinegar, balloons, and toothpicks, sell for little at your local dollar store.
When you prepare your homeschool setup, you should include multiple subjects. Get in the kitchen and whip up a new recipe as part of home economics. Purchase a birdhouse kit to assemble as part of an impromptu woodshop activity.  You can make hands-on learning fun for children of all ages.
Play Educational Games
Your interactive K-12 homeschool can include plenty of fun and games. You don't even have to spend a dime at the store — you can DIY many educational versions.
For example, you can teach basic coding ideas with nothing more than a deck of cards. The internet is a wonderful resource for downloading game boards — why not play a version of Scattergories to review challenging vocabulary? Use traditional classics like tic-tac-toe to reinforce mathematical concepts.
Take Field Trips
One way to make homeschooling every bit as fun as the traditional version is to take your kids on field trips. You don't have to spend a ton of cash.
Many science centers offer special discount rates for kids, as do museums. Even strolling the grounds can provide a rich educational experience to identify various trees and other fauna.
Do you want to instill a spirit of service in your little ones? Why not take a volunteering field trip where you help out at a local soup kitchen or animal shelter? Your kids will welcome the opportunity to do kind deeds while learning the value of empathy.
Organize "School Functions"
One of the complaints about homeschooling is that it doesn't allow your children enough time to socialize. However, you can organize school "functions" with other homeschool parents and their students.
Social media is a rich resource for other people in your area. Apps such as Facebook allow you to find groups for networking, and those like Nextdoor can connect you to people in your neighborhood. You can arrange sporting contests or take field trips together.
Create an Interactive Homeschool Environment
An interactive homeschool environment can offer the ideal learning opportunity for your child! It all depends on the love and effort you put into making their homeschool experience fun and engaging.