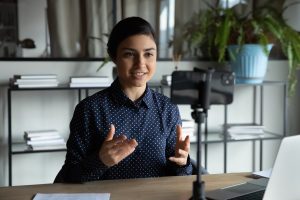 To be a self-employed entrepreneur, you need to have a wide variety of skills. Some skills you may have picked up in school; others through hands-on job experiences. And if you've struck out on your own, that likely means you're very good at what you do. That said, there are probably some skills you either were never taught or had the opportunity to learn. And that's okay. No entrepreneur has all the skills they need when they start out.
Perhaps one of the most misunderstood skill set is marketing. Marketing appears deceptively easy, after all, we're surrounded by marketing in our every day lives. But it actually requires some savvy and skill to execute effectively. Here are ten skills you can develop to become a better marketer.
Identifying Your Audiences
Before you do any type of marketing, you need to know who you are marketing to. Otherwise, you'll be wasting precious time marketing your business for people who might not be interested.
A good place to start is to develop customer personas. Personas are basic representations of different types of audiences you may have. You'll want to include some basic demographics, such as age, gender, occupation, education level, etc. But don't stop there! You'll also want to include what this persona's likes and dislikes are, what their problems or pain points are, and how they normally solve those problems.
Try to develop 3-5 personas that represent the different types of customers you have.
Finding Your Audiences
Once you've identified your audiences, you'll be able to better equipped to actually market to them.
In this step, you'll need to identify the channels where these audiences go for entertainment and information. This might include websites they visit, TV shows they watch, podcasts they listen to, or publications they've read. It also includes which social media platforms they use.
Personal Branding
Just like your business has a brand, so too should you develop a personal brand. What is a personal brand? Basically, it's what people know you for. Here are a few tips for building your brand:
Determine what you want to be known for.  Are you an innovative tech strategist? Are you a creative home decorator? Highlighting your skills and what you want people to know is the first step for creating your personal brand.
Develop an online presence, focusing on where your audience is. Develop content for those platforms. Try to be present, participate in conversations, and share useful information like tips about your industry, service, or product.
Don't forget about offline engagement! Try to get speaking opportunities at local or industry networking events, or just go for networking.  Becoming known as an expert in your field is essential for your personal brand.
Utilizing Social Media
We've touched on social media in some of the above points, but it's worth discussing it in more detail. After all, we live in a highly networked world, and those who can successfully navigate social media can go pretty far in terms of marketing their business.
As mentioned previously, you should identify which platforms your audience participates in. Next, you need to actually join—and use—them yourself. For example, LinkedIn is popular for business contacts. Not only does LinkedIn let you create sharable posts, but you can also publish full-length articles on it, all of which are sharable.
You can also use social media to connect with potential customers. Spend some time every day searching platforms for keywords and hashtags to see who is commenting on them. Try to engage in the conversation happening around those keywords, but also follow, like and share their content. Your amplification of others will pay off over time.  
Creating a Website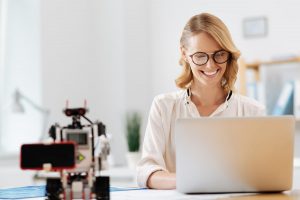 The first thing anyone does when finding out if they want to work with or hire a business is to look at their website. No website often means no customers. Even if your website is just a brochure for your services and doesn't convert, it's still a necessary tool to show who you are and what you can do.
Today, putting together a basic website is fairly easy and can be done in a couple of hours. There are a number of free or low-cost website platforms such as Wix, WordPress, and Squarespace. Be sure to also incorporate dynamic content to capture visitors' attention! You don't even need to create anything original.  There are plenty of online resources available including stock videos and images.
Building a Portfolio
Another essential item to have on your website is a portfolio. This should include the best work you've done to date. Be sure to include the client name and images of the work you did. You might want to include a few words about the process.
As part of the portfolio, you may want to think about creating a video to showcase all of your talents.  In the video, you can explain what your work meant for you, what you accomplished, and the process it took to get there.
Lastly, be sure to organize your portfolio by type of project, by industry, or whatever way makes sense for your business.
Developing Presentations
At some point, you may have to give a presentation to win a client, to share a plan, or even just to inform an audience. And unless you've taken classes in public speaking, giving a presentation can be extremely daunting.
Luckily, there are a ton of tools out there that can make even the most novice presenter look like a seasoned pro. For example, you can edit and incorporate videos into your presentations to make them more dynamic and engaging.
You may also consider using screen recordings to demonstrate how to perform certain tasks. Whatever you decide to do, it's important to think creatively in order to wow your audiences.
Reviewing Analytics
Marketing is all about testing, measuring, and then amplifying what's working and ditching what isn't. It's therefore essential to pick up some analytics skills. There are plenty of books out there, but the best place to start is just to dive in.
Google provides a free and easily integrated analytics platform that's fairly easy to learn the basics, but most social media platforms also provide user statistics. Spend some time each month reviewing your stats to see if you can identify any trends on what's driving traffic.
Encouraging Referrals
The best way to get a new client is through a referral from someone you've worked with in the past. Too often, though, we're afraid to ask for a referral. But most clients who like your work are more than happy to suggest you to friends and colleagues.
The best way to ask a client is to simply say, "Thanks for your business. The highest compliment you can pay me is to refer me to someone you know who might need my services." It's really that simple. 
Networking
Another effective method of meeting new clients or getting referrals is to network. That's essentially what you're doing when you spend time on social media platforms meeting, following, and commenting on conversations.
But it's important to also remember to go to in-person networking events, too! These can be challenging if you're a wallflower, but don't let shyness stand in the way of meeting potential clients!
Most people will ask, "What do you do?" at networking events. This is your opportunity to explain your business and expertise. Just be sure to ask others about themselves as well. Try to find common ground or interests to build a rapport.
Just remember the most important thing about networking:  It's not about you asking people for their business, it's about you offering the value you bring to the table to people. For example, if you're a website designer, you might offer to review someone's website for free and give them some feedback to make it look nicer. Spend some time thinking about what you can offer people (ideally for free) that's valuable to them and offer that up to anyone who seems interested.