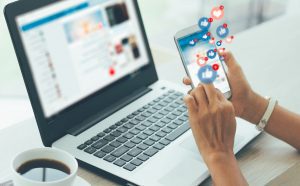 Social media is an integral part of reaching your business's potential. As of July 2021, there are 4.48 billion social media users who go online every day. 
Expanding your online reach ensures your company won't drown in a sea of scrolling feeds. Interactive content is a powerful tool that businesses can use to achieve their digital audience goals, but many don't understand how to create or leverage it. This guide explains everything you should know about increasing your reach with interactive content and how it will change how your audience views your company.
The Effect of Interactive Content
Great content engages your audience by telling a story that motivates or relates to them. Interactive content encourages them to participate in that story. The shift in purpose influences the following metrics in positive ways that illustrate why it should be a permanent part of any social media strategy.
It Increases Engagement
Interactive content starts by reflecting on your digital growth strategies to narrow your target demographic and make something they'll enjoy.
Browse your platform's comments, shares, and likes to tailor interactive features like polls, surveys, or quizzes into content that speaks to your followers' interests. Engagement spikes when users feel personally seen and cared for in each post.
It Expands a Company's Reach
When engagement increases, users expand a company's reach. Social media platforms share when someone likes something and promote posts shared with specific hashtags. Your posts will reach more people as followers interact with more refined content.
It Enhances the User Experience (UX)
If someone follows an account and then never connects with it personally, they'll unfollow it because the posts don't contribute to their lifestyle.
Interactive content enhances the user experience because they feel individually engaged.
Interactive Content Examples
Creating interactive content depends on a company's goals, products, or services. You'll also have to know what your audience wants when they start following your accounts. Consider the following types of interactive content to find the best types of content for your digital growth plans.
1. Calls-to-Action and Annotation Buttons
Interactive features like calls-to-action help guide users to a specific outcome, whether it's watching more videos or a link to a companies' website.   It gives users the opportunity to continue their journey.
Annotation buttons can also explain the content more thoroughly. Viewers will never feel confused or out of the loop when a branded video utilizes buttons that link relevant content like resources or videos. Clicking these buttons makes a company more accessible and user-friendly, avoiding passive views that are much less engaging.
2. Create Regular Contests
People love to win prizes! Research shows that 34% of new fans come from contests for this very reason.
Offer a grand prize of one free service or product to users who follow your account, like the post, and share it or tag friends in the comments. They'll get excited over the possibility of winning a contest and you'll get more exposure because the content is interactive.
3. Post Quizzes and Polls
Everyone likes to talk about their interests. It makes them feel valued, so tap into that potential with quizzes and polls.
In December 2020, the Wendy's Twitter account posted a poll to ask their followers about their Baconator preferences, which resulted in a resounding answer that people prefer to eat Baconators at all times of the day. It was a humorous poll that made followers laugh as they participated. It also provided helpful feedback for consumer preferences and the chance to advertise their sandwich in a way that didn't feel like an ad. Their followers got to participate in a lighthearted poll and the company benefited from another interactive PR blitz that garnered tens of thousands of votes.
Quizzes are another way to learn about an audience's preferences. They fill out answers about their likes and dislikes to generate useful and specific feedback companies can use to tailor services, products, or even future content. For example, the Princeton Review uses an interactive career quiz to engage audiences based on their majors and career goals. Buzzfeed uses pop culture and personality quizzes to target their readers' interest in a more casual way, which matches their content style. Quizzes are also evergreen content because they don't have to hook into a time-relevant event to interest followers.
4. Announce Frequent Raffles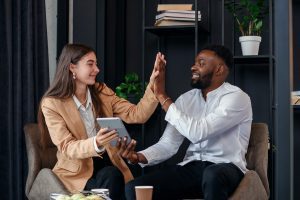 Raffles are another way to increase engagement and followers by giving away free prizes. The difference is that raffles typically only have one winner and the prizes are much more sizable than a simple contest.
The Meredith Corporation publishes numerous magazines, making it feel like a distant corporation to readers who can only identify the magazine names. It connected with readers, website visitors, and social media followers by creating a $25,000 raffle sweepstakes for homeowners who wanted to do renovations.
By publishing the raffle on every platform, they reached users who might have preferred one social media site over another. Anyone who entered would have to check back frequently for raffle results, increasing daily or weekly engagement stats.
5. Schedule Monthly Livestreams
Livestreams are opportunities for followers to get more from the brands they love.
Record your livestream to extend your content way beyond the date it aired.  You can build new content from the recorded video. 
Cut highlights of your video for social media posts or use snippets of an interview as testimonial videos.  
Companies can post the entire livestream for users to rewatch.  Just add them to evergreen channel lists for simple video management.  It makes it easy for users to find.
Cosmopolitan used a recent livestream to give popular designer Lauren Conrad a platform.  She answered questions from fans. These livestreams led to great attendance and long-term engagement.  
Refresh Your Content Planning
Increasing your reach with interactive content is much easier with tips like these. Narrow down your audience, consider what they want when they start following you and use interactive content to make your platforms beneficial for their lives. Contests, polls, and videos are just a few ways to get started with revamping content into more purposeful posts.