Video-based learning isn't new. Many companies started by including videos in their corporate training, but both the production and the goals of learning content have changed dramatically.  Today, corporate training has shifted to accommodate new and evolving technology including the use of mobile platforms.  It's more important than ever to provide training that is easy and accessible for employees. Here are six things you should know about video-based learning and why these strategies are important to implement.
Bite-sized learning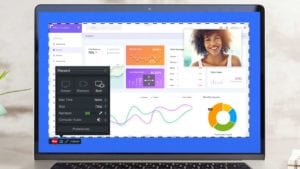 Instead of a six-minute video teaching an overall principle, training videos can be cut up into bite-size pieces.  Each video can range from three minutes to as little as thirty seconds. The goal is to split the overall topic into shorter chunks so that employees can retain the information.  With longer videos, viewers tend to tune out, multitask and simply click away.  This way, you can keep their attention focused on the topic.
Bite-sized videos don't have to take a lot of time to create.  In fact, having a screen recorder is the easiest way to record videos. It's an easy way to communicate concepts and it doesn't have to take a lot of production time.  All you need to do is set up your screen or webcam and press record.
It's all about interaction
This one shouldn't come as too much of a surprise.  Have your employees interact with the video topic.  
Study after study shows that topic retention and overall topic engagement are significantly increased with interactivity in the online training format. After every video, have workers answer questions or engage them in a discussion.  You can have them repeat an exercise that was shown in the video.  
Engage with video-based learning
Video learning provides you with creative possibilities to keep your audience engaged.  Mix and match content to add to the topic of your video. For instance, images and videos can add context to any given topic.  Use visuals to engage the learner.  
You can add music in the background to keep them listening.  Instead of narrating the video yourself, you can showcase interviews with other employees/customers in your videos.
The video format gives you tools that other formats don't, so take advantage of them to create a high impact learning environment.
Flip professional learning using video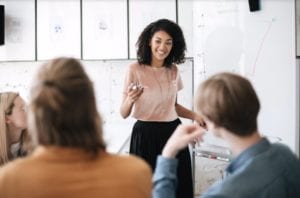 Although video is a great tool to use, one thing to remember is to utilize your trainers for in-class learning. Use face-to-face time to communicate difficult topics and skills.  You can have interactive discussions or hands-on, live demonstrations of your products or services.  
You can use video to supplement what they have learned and perhaps even teach them the skills they need in the workplace.
The video creation tools you need are out there
You can create an entire training program with affordable video creation tools you can get on your computer.  ScreenPal has been the choice for many companies around the world.  With easy to use video creation tools, you can enable every employee to create videos within seconds.  All they need to do is hit record and walk people through a task or demonstration.
The tools are great to implement in departments such as customer support, sales, marketing and more.  Within minutes, your employees can create a video.
Another great feature is ScreenPal's mobile screen recorder app.  If you want to train your company's employees on your mobile application,  a mobile screen recorder can capture the experience and showcase features.
Whether you are creating videos on a desktop or a mobile product, you can easily capture your screen to create high-quality training videos for your workforce. Easily turn your business or department into a video-based learning powerhouse. If you follow these points and leverage video creation tools, you'll be well on your way to increasing engagement, maximizing retention and having an overall better-educated employee.