Some may be surprised to learn how lucrative the video game industry is. With new consoles being released on what seems like an annual basis, it's no wonder their growing popularity brings in quite a bit of revenue. Aside from console and physical game sales, another area in the industry to focus on is gameplay.
It's now possible to be a professional gamer, something unheard of back in the 1950s. As the computer research industry grew in the 20th century, video games came from scientists experimenting with different technologies. Games made their way into the homes of millions worldwide, and people found opportunities to make money playing video games. This led to the creation of esports. 
If you're interested in pursuing a career in the gaming industry or creating a side hustle out of playing, you're in the right place. We'll cover all the unique ways you can earn income by playing video games, including sponsorships, livestreaming, tournaments and even writing about the gaming industry. You will learn how to make money playing video games and be better prepared for taking the next steps.
Professional Gaming and Tournaments
Hundreds of thousands of people worldwide gather to watch esports tournaments every year. Here are five of the most popular esports tournaments going on in the industry.
"Honor of Kings" World Champion Cup

EVO Championship Series

"Fortnite" World Cup Champion

"League of Legends" World Championship

"DOTA 2" The International
You must be a top player in the respective game to participate in these tournaments. Keep in mind that it's no simple task to get into esports tournaments — gamers get coaches and practice hours on end to be prepared for their matches. 
Remember that it may be challenging to find a team, and depending on your skill level in the game, you may have to put in more practice hours to eventually land a spot. Compared to other ways of making money in gaming, you must overcome some hurdles to be a professional gamer.
Quality Assurance or Game Tester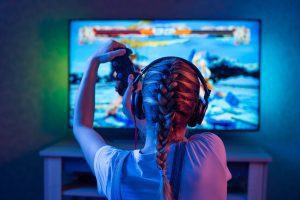 For avid video game players, the idea of getting paid to test new games sounds almost too good to be true. But game testers are increasingly in demand in an industry that is becoming equally as demanding — 70% of video game professionals in a recent survey agreed that competition for game creativity will escalate in the next five years. Why not capitalize on a competitive market by testing out beta versions of video games? 
It's important to understand that any career has its drawbacks, and the main one with testing is it can be monotonous. Going through the game and repeating levels multiple times, as well as trying different approaches to see any developmental issues, can become tedious.
Testers are responsible for finding the bugs or glitches in a game before it's released to the general public. A more formal title for this job is a quality assurance tester or QA tester, and you can either work in an office or even from home. It's a good idea to have some educational background or experience with analytics, as it will leverage your chances of being hired for a position like this.
Livestreaming and Entertainment
It's now easier than ever to capture your live gameplay to share it with the rest of the world. There's valuable software on the market that can help you record your screen, edit your videos and share it with others. All it takes is recording your computer screen during a gaming session, editing the video to showcase highlights, and sharing it with your friends. 
With innovative streaming platforms like Twitch and Activision Blizzard growing in popularity, it's no surprise that gamers are gaining fan followings. Avid gamers watch others play to learn new strategies and improve their gameplay. Popular gamers often create YouTube channels and post new videos regularly, which helps them leverage their position in the gaming community. There are plenty of content creators that benefit from sharing their gaming experiences with others.
Create Gameplay Tutorials
Gamers just starting in a new game can find it intimidating to understand the controls, learn the rules, accomplish specific tasks and more. It takes time and practice to master a game, and every avid player would admit that tutorials are helpful tools that make this learning process a bit easier. 
To make tutorials, you'll benefit from using the screen recording software mentioned above. You can then upload the file onto a service like YouTube to share with your audience. Creating gameplay tutorials provides a much-needed service to novice gamers. Be sure to set up accounts to share your videos across multiple platforms to gain the most clicks, which results in more revenue from advertisements.
Get Paid to Play
Platforms like Swagbucks and Mistplay will pay you to play their online games. However, they won't be sending you a paycheck in the mail. As you play and meet their criteria, they'll offer you tokens that accumulate in your account.
These can be traded in for retail gift cards or transferred to a PayPal account. All sites come with terms and conditions, so be sure to review all the requirements before jumping right into gameplay. 
Gaming Journalism
The world of journalism is vast — there's a wide variety of topics you can write about online. If you love to play video games and enjoy the gaming industry, consider earning a degree in journalism. Searching for an entry-level position in any industry can be challenging, but if you can do some freelance work for a gaming magazine or game review company, it can get you started on the right path. 
Being a gaming journalist allows you to combine writing with gaming. It's a perfect opportunity for gamers to learn more about the industry and share information they already know.
Selling Accounts or Digital Items
A perfect example of selling digital items through gaming is in the "Animal Crossing" franchise. In-game currency is prevalent in many games, and it's possible to offer those items on websites like Etsy and eBay. Gamers will look to these sites to improve their gameplay experience and pay real cash for this in-game currency. Whether it's Bells in "Animal Crossing" or "Fortnite" V-bucks, you can make a profit based on what items you have in your inventory. 
Be aware that selling accounts or digital items is unregulated and can sometimes cause issues between sellers and buyers. It's important to remember that if you're interested in making money this way.
Develop Your Own Games
Some colleges and universities have degree programs that teach you how to get started in video game development. It takes a lot of hard work and patience to learn how to conceptualize your game. Here are the steps you need to follow if you want to make your own game and earn cash from it:
Research and figure out what type of game you'd like to create.

Begin documenting your plans and write a brief outline.

Learn about and become familiar with the available software you'll need to develop your product.

Begin coding and creating your game.

Test your product and begin marketing it across various platforms.

Pitch your gaming product to popular gaming companies.
It's no easy task to create a video game. However, the risk is certainly worth the reward — a popular one can earn you tons of money. It requires exceptional knowledge of coding, especially if you want your game to blow players away. 
Profit From Gaming
Gaming is a growing industry, and there are plenty of opportunities you can take advantage of to make money playing or creating video games. 
You'll have to overcome obstacles or take courses that you'll need to educate yourself on how to seize those opportunities. Whether you're looking to make a career out of gaming or want to earn some extra money on the side, there's a suitable option for everyone involved in the community.