Did you know that the right hosting platform can make all the difference in the success of your videos? Below, we'll tell you all about video hosting, why it matters, and how ScreenPal's content management and hosting platform can help you grow your audience.
What is hosting and do I really need it?
Video hosting services let you upload, manage, and share your videos via the hosting service's app or website. Once uploaded, you can organize your videos, grab sharable links, or embed videos onto your own website. 
Using a hosting service is a smart move if video is a regular part of your video strategy. Here's why:
No more hassles.

Self-hosting isn't for everyone. It requires some advanced coding and self-managed analytics to host your own videos. Self-hosting can be slow and you may run into issues with your audience not being able to access your content.

You'll get storage space.

Your videos will be stored on the hosting service's side, freeing up space on your devices.

You can create a custom look.  Hosting platforms have extra tools to customize your videos.  With ScreenPal, you can create custom video players to fit your brand colors, create unique URLs for your videos, add custom thumbnails, and more!
Share in multiple ways.  They offer easier ways to share your content on multiple platforms.
Collaborate as a team.  Hosting provides the unique ability to collaborate as a team. You can share and work as a team on video projects, provide insight on videos, and more!
You've got a support system.  They offer support when you hit a snag along the way. With ScreenPal, we've got helpful experts to answer your questions as well as a help center filled with a wealth of information including support articles and tutorials.
Choosing a hosting platform
With so many options on the market, it can be hard to pick the right hosting service for your needs. 
YouTube is a popular choice, but your audience may easily get distracted by the recommended videos that pop up alongside your clip.  Other hosting services may include intrusive ads, slow loading times, a limited feature set, or expensive pricing.
ScreenPal's hosting platform works for everyone, from individuals to big businesses. It's affordable, distraction-free, fully-featured, quick to load, and offers a brand ad-free option.
How to make the most of video hosting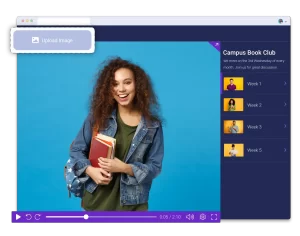 ScreenPal includes robust features to organize and share your content. With a fresh user-friendly look, it's easy for both you and your team to use.

Set your videos up for success by taking advantage of these hosting features: 
Custom video player
You can customize the player to match your brand with colors and player controls. You can also leave it as-is for a clean and professional look.
Custom thumbnails.
The perfect thumbnail encourages viewers to click on your video, so ScreenPal lets you upload the perfect image.
Embed your video
Grab the embed code of your video and display it on your own custom website.  
Update your videos without creating a new URL
Need to make an edit? No problem. You can update your video without losing analytics data or having to create a new URL.  Once you share the link, it won't change so you can continue updating and replacing videos without having to worry about sending a new URL.  
Organize with folders and channels
To get organized, you can create folders (and even subfolders) to arrange your videos by topic or project.  You can also create a channel of video content to share with your audience.  Just send the channel URL and they have access to your playlist of videos.
Publish and share on multiple platforms
ScreenPal offers instant sharing to YouTube, Vimeo, Google Drive, and more. You can also share on popular social sites including Facebook and Twitter.
Recover your files.
Accidentally deleted a video? Recover it easily. A trash can is included, so you can see what you have deleted and recover your files if necessary.
Get started with video hosting
Getting your videos in front of your audience doesn't have to be hard. The right hosting service will make it easy. You'll have the tools and features you need to get the job done quickly, plus all the great tools needed to make it happen. 
There's no need to waste time struggling with self-hosting or lose viewers to annoying pop-up ads. 
ScreenPal's Content Management and Hosting Platform will save you time, money, and effort while providing an engaging viewing experience for your audience.