The latest ScreenPal updates include new products, enhanced app performance, and improvements to some of our most popular features! 
New feature: Create videos with drag-and-drop storyboards
All good videos start with a story. Whether you're creating a video to educate or entertain, your video tells a story and that story has a structure to it. Storyboards are a popular tool for educators and creators alike for planning that video story structure, but traditionally you have to develop your storyboard either on paper or in a dedicated app, and then piece together your video in a separate video editing software.
With Stories, we've brought storyboards, scripts, and video editing together in one simplified, streamlined, video creation tool.
Storyboards and scripts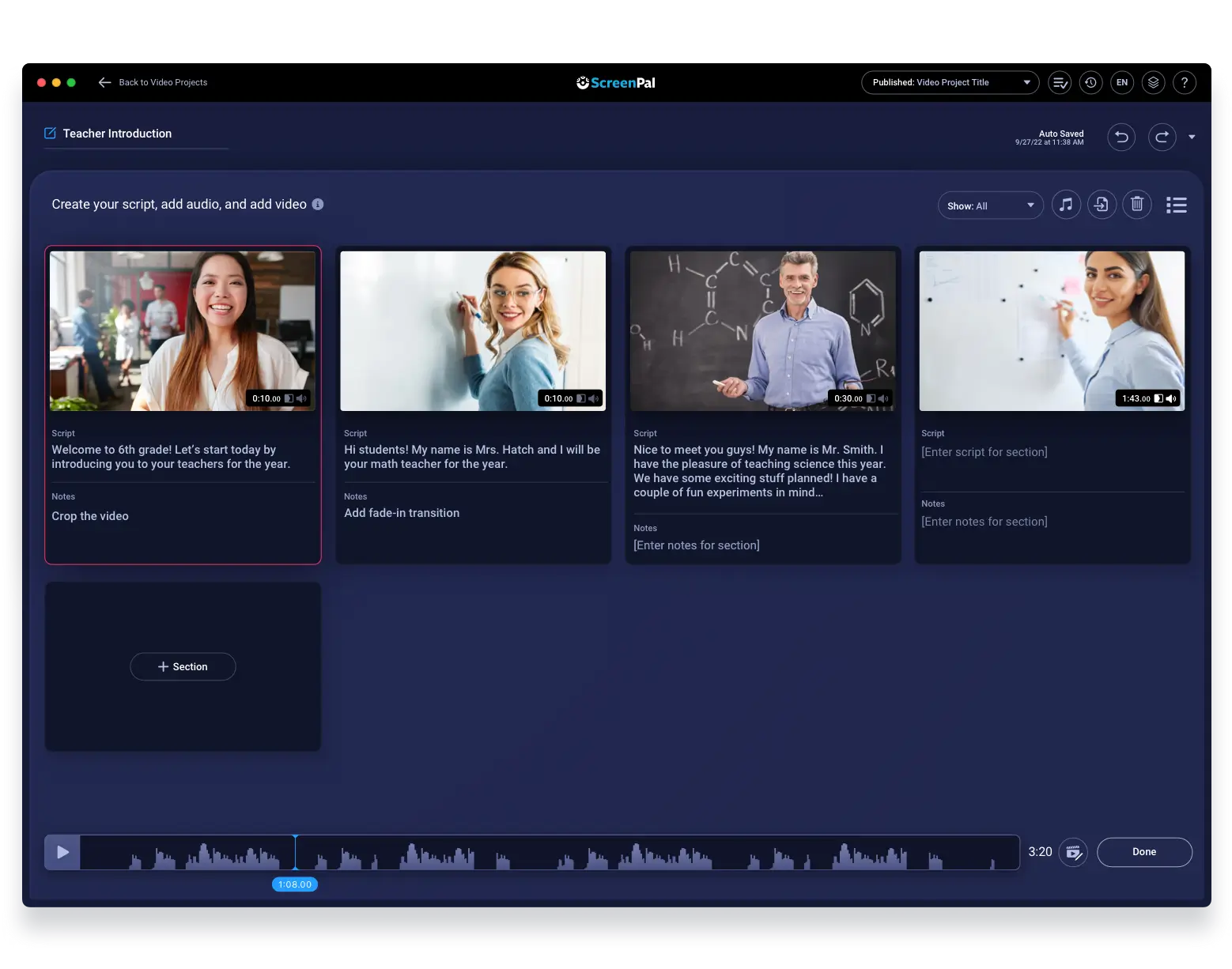 You can start any video project with either a storyboard or a script, easily toggle back and forth between those two views, and easily add content to any section of your storyboard when you're ready. Miss a section? No worries, you can add sections anywhere, drag and drop to rearrange your storyboard, and jump into any section if you need to make edits or polish before you finish and share our video.
Easy presentation videos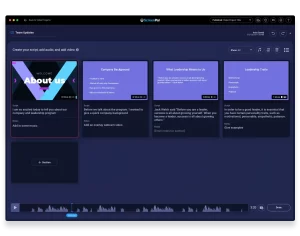 With Stories, you can easily turn any slide presentation into a video. You can directly import a Google Slides presentation, or upload a PDF of a PowerPoint or Keynote presentation, and each slide automatically becomes a section in your storyboard. You can then narrate over your slides, record and add your webcam to any sections, as well as add a script and turn your script into captions automatically. Pro tip: If you or another team member are recording narration for your slides outside of your video project, Stories will map your narration to your slides automatically. Just leave a 2 second or more silence between each slide, and the app will treat that silence as the marker of a new storyboard section.
For more on Stories, read our announcement blog and check out our quick video tutorial to get started creating!
New, improved Chromebook experience
We're completely rebuilt our Chromebook app to improve performance and support even more devices.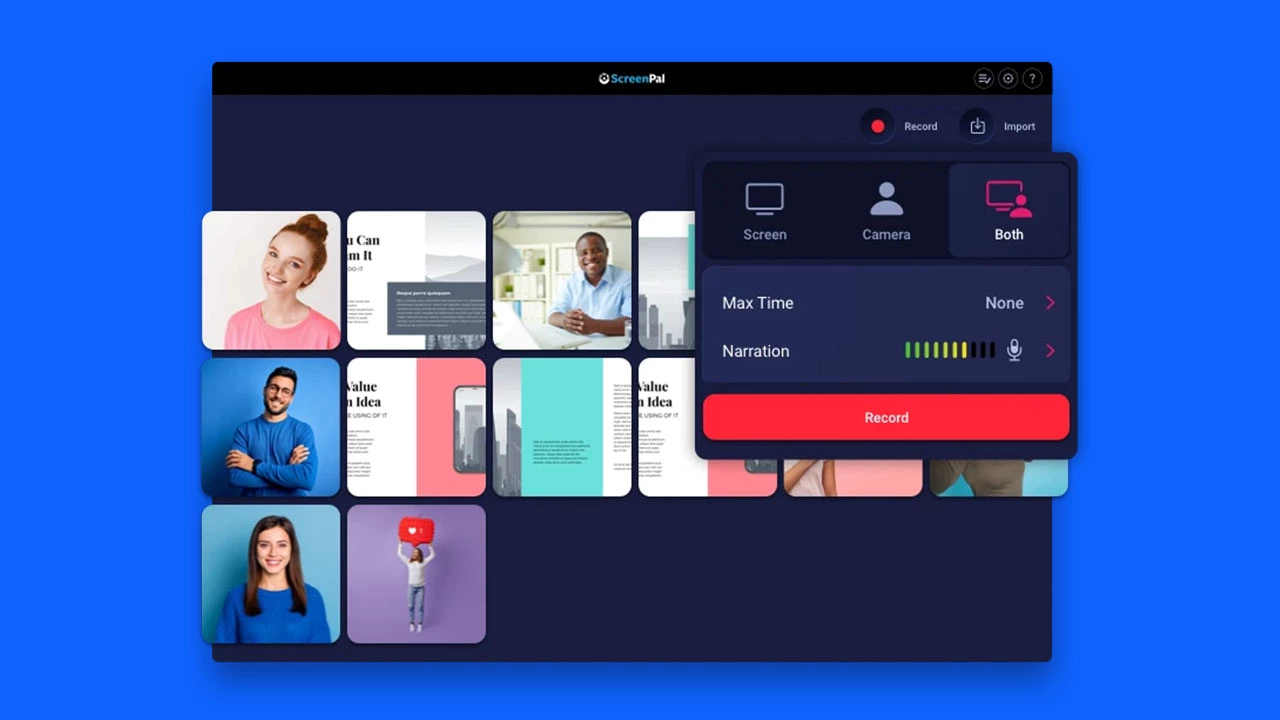 Now anyone with a Chromebook can easily record, edit and share videos for free! Record your screen, webcam, or both, draw and annotate while recording, and easily edit videos with the video editor. Save your videos to your Chromebook, upload to Google Drive or YouTube, or upload to ScreenPal and share with a link.
Learn more about the revamped Chromebook screen recorder and video editor.
Now free: Export as GIF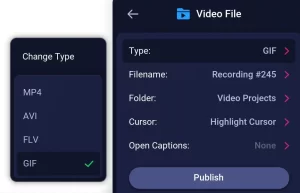 Now anyone can export their recordings and videos as a GIF for free!
Who doesn't love a GIF? If you're a teacher, you can create quick animated GIFs from your screen recordings to share quick how-tos, or even create GIFs from a webcam video to make fun reaction videos that your students will love. And if you're a marketer, you know how popular GIFs are on social media, as well as other marketing channels. 
Animated GIFs can be used to educate, to entertain, or for any form of communication in between. You can export a screen or webcam recording as a GIF directly from the screen recorder, or you can export any video from the video editor as a GIF. 
To save any recording or video as a GIF, simply click "Save as video file" and then choose "GIF" under "Type."
Quizzing improvements
We're continuing to make improvements to interactive video quizzing. 
Scoring quizzes
Now you can choose to exclude short answers from a final quiz score for the person taking the quiz. You can score these question types separately. This new option allows you to give immediate, automatic feedback to your quiz takers on multiple choice and true / false questions, and then follow up with individual feedback on more open-ended, short answer questions.
Quiz analytics
We've also improved quiz analytics. You can now view key summary metrics at a glance in your Results Summary tab, including your quiz's high score, low score, mean score, aggregated heat map, and average duration.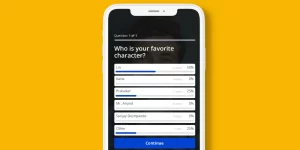 Quiz and video visibility
Configuring your quiz has gotten easier, too. You can now quickly view your video's visibility setting under the "Assignment tab" in Quizzing. For example, if your video visibility is set to Team User or Password Protected, those settings are enforced in any quiz you create for that video. You'll be able to see these settings on your quiz with a link to your video details if you want to update the visibility settings.
Watch our short video tutorial series to see how quizzing works, and then upgrade to a Max or Team plan to get started!
Improvements to Channels
We've recently launched two new updates to Channels.
Channel branding
Now you can easily add your logo or image to further customize and brand your channel. Easily upload your logo or image file when you create your channel, or edit an existing channel to add your logo. 

Improved Channel management
You can remove multiple pieces of content from a channel in one step. Visit your Channel details, select the content you want to remove, and click the remove icon in the bottom of the screen.
Anyone can curate and showcase their content for free in Channels! Channel branding, video branding, and video player customization are all available in any Premier, Max or Team plan.
What's new in ScreenPal
Screen effects
Now you can add confetti, fireworks, reactions, and more to any video message with screen effects in ScreenPal! Easily launch effects while recording video messages from any text box, Google doc, or browser app. You can assign hotkeys to effects to be able to quickly launch them while recording your screen.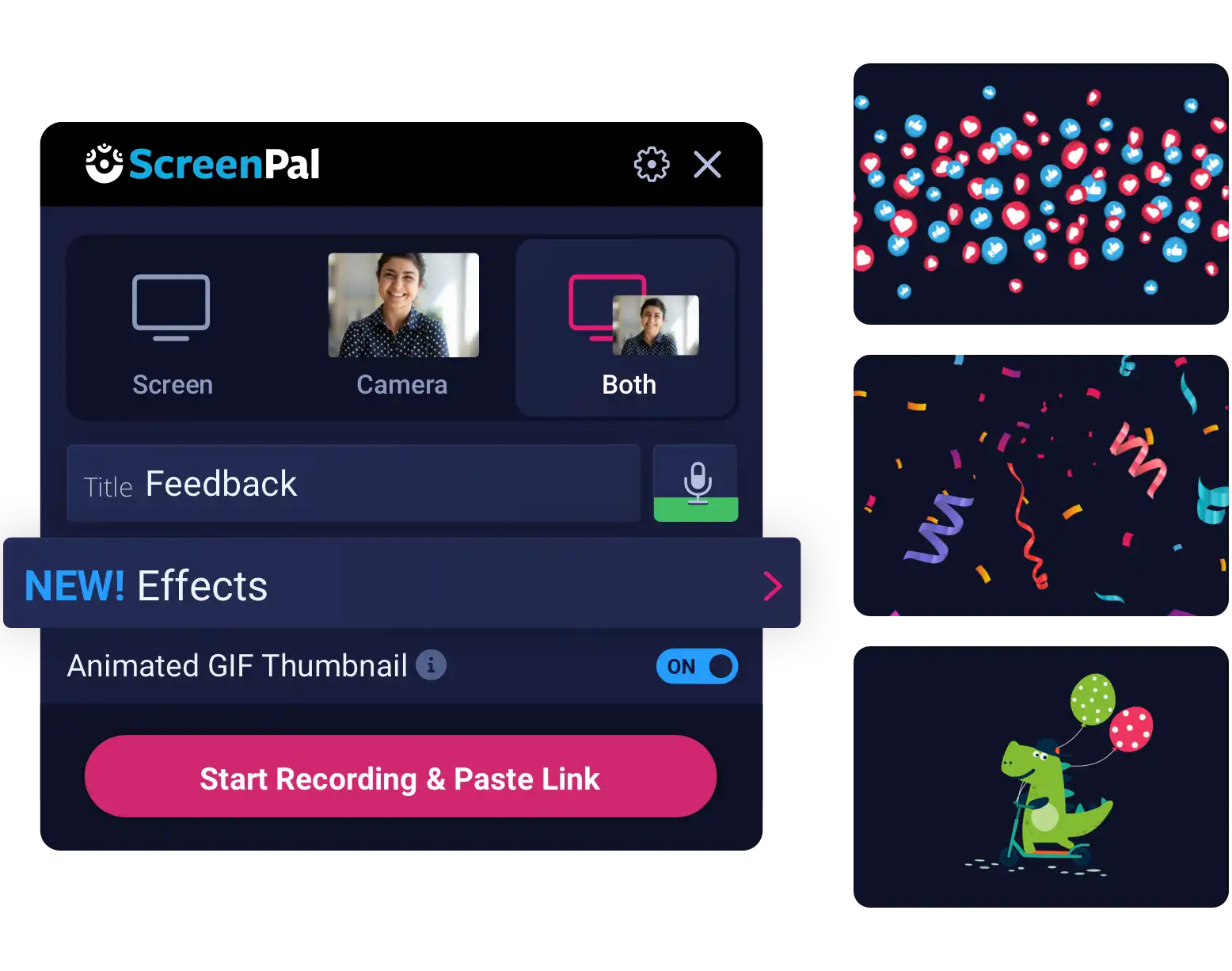 We've also launched full page, tab, and screen recording from any Google app, including Docs, Slides and Sheets! Now when you open a Google Doc or Slide presentation, look for the ScreenPal icon in the lower left corner. Click the icon and you can choose to record your browser tab, an application, or your full screen. You can also record your webcam, narration, and enable screen effects. You'll also be able to use the easy drawing tools in any ScreenPal recording. 
See ScreenPal in action and get the free Chrome extension on the Chrome web store.
Test your webcam and microphone
We recently launched two new pages on our website to help you easily test your webcam and microphone. If you want to make sure everything is working properly before a video call or recording, try them out!