Have you ever needed to copy or edit some text from a PDF or a screenshot? Maybe you want to quickly convert an image to text, extract text from a screenshot to share with your team in another app, or copy and paste an error message for your developers. Or you want to make a quick edit to some text in a screenshot or modify a stock image to fit your marketing campaign without having to use complicated graphics software.
Now you can easily extract or edit the text in any screenshot or image you upload to your project manager with our new text recognition feature!
How it works: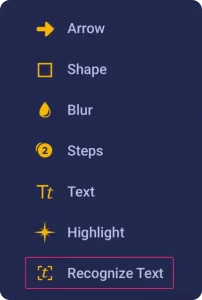 Once you've opened your screenshot or image in the image editor, simply click "Recognize Text" and drag to select the text you want to extract or edit. It's that easy! You can then click into the text box to copy and paste elsewhere, or to edit in place. And you can resize, reposition, and restyle like you would any text in the image editor, as well as change the text font, color, and effects.
Text recognition uses Optical Character Recognition (OCR), which is a technology that recognizes patterns of characters and words in images to then convert them to editable text.
Watch our short tutorial for more tips and tricks on how to get the most out of our text recognition feature in the image editor:
Text recognition is available with any paid subscription. All plans include our full-featured image editor (with text recognition!), video editor, and screen recorder.
It's easy to edit and customize your screenshots and make text work for you! Start taking and editing screenshots for free, and upgrade to any subscription to quickly and easily convert your images to text.