The right music is key to producing engaging videos. Music adds depth, emotion, and a polished feel for your audience. Yet finding a video maker with music built-in can be tricky. 
Fees and complicated licensing restrictions leave many confused. Videos uploaded to social media platforms are often silenced or restricted due to licensing issues. 
Now, innovative video makers are offering a solution. Companies like ScreenPal are offering music with no fine print. 
Free Licensed Music 
ScreenPal offers users a curated stock music library packed with topical music from a variety of genres. The library prominently features new music and seasonal favorites like holiday tunes.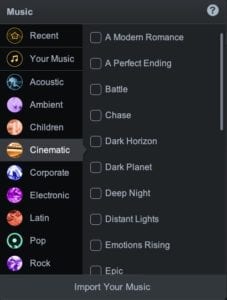 Deluxe and Premier ScreenPal users can choose any track in the library. A smaller music library is available with the free version of the Screen Recorder. Free users can choose up to 3 music tracks per genre.  
No Fine Print 
When you select music from the stock music library, it's yours to use however you like. The tracks you select can be incorporated into your video clips. From there, the video and music can be featured anywhere you like including social media. Businesses can even feature songs from the stock music library in video projects created for commercial use. 
Best of all, there's no extra cost!
And there's no need to worry about online platforms silencing your video. The music provided by ScreenPal is free of licensing red tape. 
Add Stock Music
Deluxe and Premier users have access to the entire stock music library. Users can quickly add music from the library and have the power to customize tracks through editing.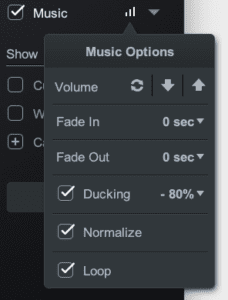 ScreenPal also takes the guesswork out of audio editing. Similar to video editing, adjusting the audio is easy. You'll find all the tools you'll need to customize your stock music library selection. 
You can control the volume levels or fade the music in and out. There are even options to normalize the volume of a song or set it to loop. All the tracks in the stock music library are created to loop flawlessly so viewers won't notice an abrupt start or end. 
Making Movie Magic 
Remember, you don't need to be a professional audio mixer to create movie magic on your computer. ScreenPal keeps it simple. Straightforward audio editing, a growing stock music library, and zero restrictions on when, where, and how you use the music. 
Browse through the stock music library. It's designed to fit any project. From a personal slideshow with music to a cross-platform marketing campaign, set the mood with the perfect tune.