The music you add to your videos dramatically impacts how your viewers engage with your content. Mood, tempo, and genre all play a key role in how well your music supports your video's goal. You'll also need to consider copyright claims or licensing issues to prevent your video from being flagged by your hosting platform.
This article highlights why you should add music to your videos, how to choose the right music for your video, and how to add music to your video.
Why add music to your videos
Music can be the secret ingredient to the success of many videos. Music works in subtle ways to stir the viewers' emotions, making them genuinely resonate with the content of your video. Music can be the superpower your video needs when used correctly, but the wrong music can also doom your video. Even voiceover videos generally have faint background notes that support the primary message through subtle cues.
Whether you're making a how-to video, YouTube video, product demo, or vlog, your video may benefit by using relevant music. Numerous studies have shown that music can impact consumer behavior, visual perception, and cooperation within groups. Your choice of music also represents your brand's personality, making it a key element to how viewers engage with and remember your brand.
How to choose the right music for your video
The right music can draw viewers in, keep them watching, and reinforce your call-to-action at the end of your video. However, the wrong music can negatively affect your brand perception, confuse viewers, and reduce your video's engagement. The mood, tempo, and genre of your music can all impact how your viewers engage with your brand. That's why it's essential to find the right music for your video.
To illustrate the importance of selecting the right music for your video, perform a simple mental activity. For example, you know how charities and dog shelters often pair the images of cute dogs with slow, sad music? In your head, replace the music with some party or disco tracks — would you still feel compelled to adopt the puppies? Or think about a popular horror movie scene and replace the gentle, foreboding score with pan flute music — are you still scared?
We'll say it again — your music selection can make or break your video.
Here are 4 tips to help you select the right music for your video:
1) First, determine the primary goal of your video. For example, do you want to engage your viewers, sell them a product, entice them to visit your website, or resonate emotionally with the subject? Based on these considerations, you'll be able to find the appropriate music type and tone.
2) Understand your audience's preferences and interests. Once you understand your audience, you can select music that will make them feel comfortable and catch their attention. Avoid music that will be jarring or offensive to your target audience.
3) If you're producing explainer videos or any video with voiceover, use light and subtle background music that adds some texture without distracting the viewer from the core message.
4) Keep track of audio and music trends in your industry. You can leverage trending music to make your audience feel instantly comfortable with your video. But you should only use trending/ popular music if it works with the primary message of your content.
How to add music to a video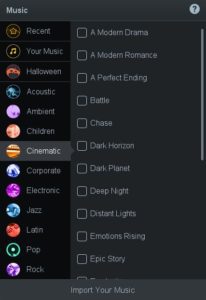 Once you've found appropriate music, you need to add music to your video. Adding music to a video doesn't have to be hard! First, you'll need reliable and user-friendly video editing software. Each platform has unique steps for adding music to videos, so the specific steps of the process will depend on your chosen software.
We describe how to add music to a video using ScreenPal's video editor. This free video editing software is included with a free, user-friendly, popular screen and webcam recorder. ScreenPal makes it extremely easy to add stock music to any of your videos within seconds. The platform also gives you access to a royalty-free music library built right into the video editor. You can also import your own music into the video editor and add it to your video. You'll just want to make sure you have the rights to use that music (more on this below).
Here's how to add music to your video using ScreenPal.
Step 1: Open the video editor
Import your video into the ScreenPal video editor. You can easily make any edits you want to polish your video before adding music. Add text overlays, transitions, and video effects in the editor and preview your video at any time before adding music.
Step 2: Select the music to add to the video
 Once you finish editing your video, click the Music icon on the right of the editor under Audio. You can import your music file or choose from any free clips in the royalty-free music library. You can browse the library based on categories and click on specific tracks to preview. Once you select your music clip, it's automatically added to your video timeline.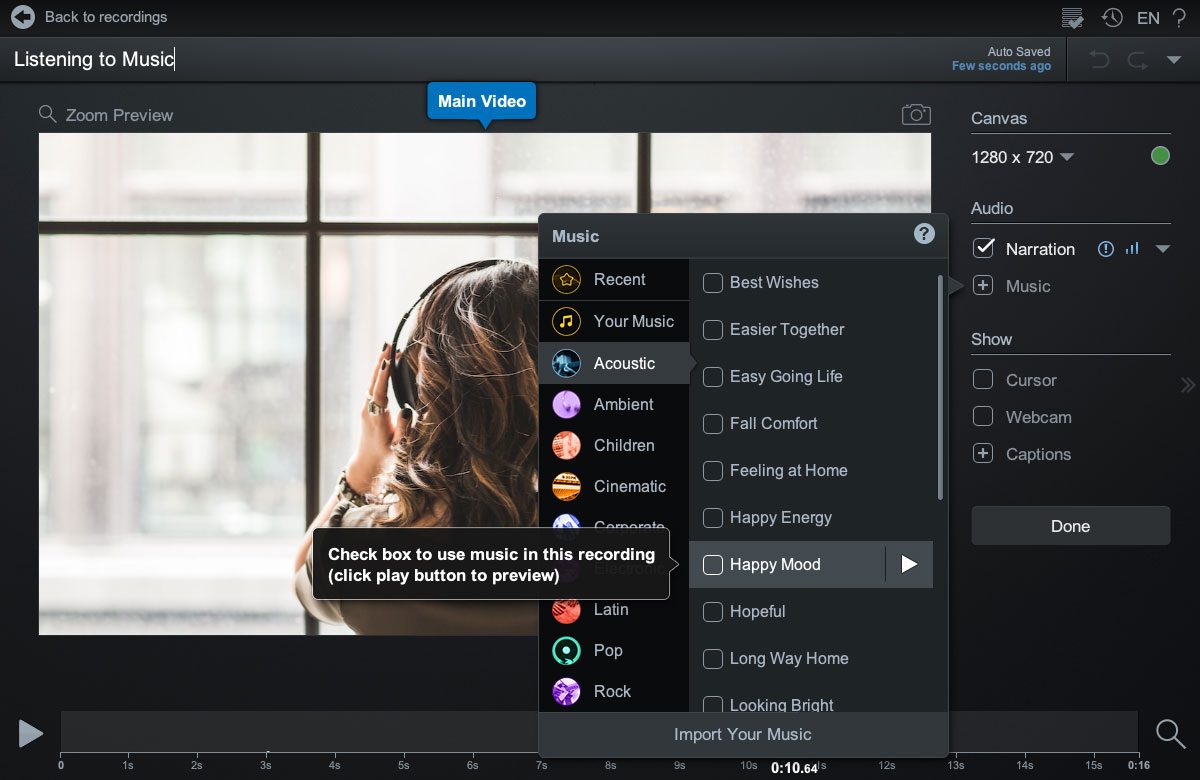 You can also add music to a specific section of your video by clicking Tools -> Sound -> Music. You can add multiple music clips to your video this way. This feature is a great tool for enhancing transitions in your video and changing moods from one section to another.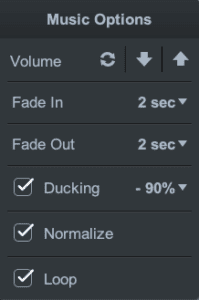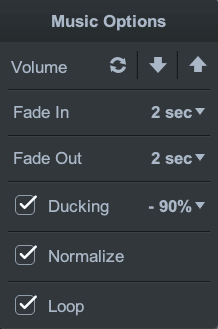 Step 3: Edit and adjust the music according to your needs
Once you've added your music to your video, you can edit and adjust to suit your video. You can increase or decrease the volume of the music segment and make it fade in or out at the beginning and end of your video. ScreenPal also has easy audio ducking, audio normalization, and music looping options.
For audiophiles, ScreenPal also has easy audio ducking, audio normalization, and music looping options. The app provides presets on these advanced audio settings, so most people won't need to make any adjustments.
How to find free music for videos
Finding free music for your videos can be challenging if you don't know where to look. Even though music is literally everywhere, most of the music available on your phones or streaming platforms is off-limits. Much of the music available online is copyrighted, i.e., owned by someone else. So you owe the copyright owner royalties every time your video uses that copyrighted music.
If you want to use music without owing royalties to others, you'll need to use free royalty-free music. Royalty-free is a type of music licensing that allows you to purchase the music license once and then use it indefinitely. Royalty-free music, however, isn't necessarily cost-free music. You would still need to buy the license for the music once, after which you can use it without restrictions. So if you want truly free music, you need to find a website or software platform that offers free royalty-free music.
ScreenPal has an extensive collection of free royalty-free music within the built-in music library. There are no confusing agreements or licensing restrictions. 
You can add the music files to your videos directly from the video editor. You can easily find, filter, and add tracks to your videos without paying anything to anyone. Furthermore, all ScreenPal paid plans give you access to an expanded set of royalty-free music.
When to use premium royalty-free music
You may not always want to rely on free stock music options. Free stock music clips are also widely used by content creators across the internet, giving them a slight indistinct feel. However, you can use premium royalty-free music to create a professional video for commercial purposes, such as customer stories, product demos, and marketing videos. In addition, premium royalty-free music is more distinct, and can further boost your video's quality and effectiveness.
ScreenPal also has an expanded premium royalty-free music library. This screen recording and video editing platform essentially meet all of your requirements through every stage of the video editing process. You can add royalty-free music to your video, easily edit it for any channel, and share it broadly with your target viewers. 
Record a video for free or choose your clip to edit. Then add music to your video in ScreenPal's free and easy-to-use video editor!