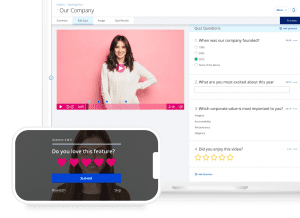 Now anyone can create engaging, interactive learning and training experiences with ScreenPal! Make any training video, online course, or marketing video interactive with all-new video quizzing and polls. 
As businesses of all sizes continue to adapt to the challenges and opportunities of remote and hybrid work, asynchronous communication and video training help teams connect, communicate, scale, and develop across differences of distance and time. 
With our interactive video quizzing feature, teams can make onboarding, training, and professional development fun and interactive, while brands can create fun and engaging experiences for their customers.
Who can benefit from interactive video quizzes
Learning and talent development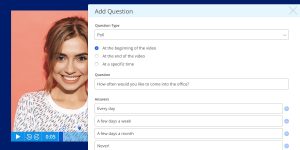 Employee training videos are a great way for talent development professionals to onboard new hires and deliver ongoing training for compliance and professional development. Interactive quizzing allows employers to test for knowledge as well as capture critical employee feedback. 
Video polls help build team culture as well as gauge employee sentiment, and can be used for ongoing feedback to help managers and human resources teams keep a pulse on team morale. Surveys and polls help any instructional designer gather feedback to optimize and create better training videos.
Marketing teams
Marketers can use quizzing and polling to engage viewers and build brand trust. For example, marketing teams can gather product reviews from customers with interactive video. Ask customers to rate and review your products at the end of your product demo videos. 
Engage leads with quizzes and capture valuable insights to nurture those conversations into customers. Adding quick polls and easy interactions in marketing videos helps to keep your viewers engaged with your content until your final call-to-action.
Product teams
Product teams can use quizzes and surveys to understand customer needs, improve user experience, and shape better products. Product managers can share video surveys with customers to capture their feedback and suggestions. UX researchers and designers can add questions and polls to videos to record data from beta testers to iterate on designs and improve prototypes.
How to create an interactive quiz in ScreenPal
You can create a quiz from any video. Save your screen recordings and videos to ScreenPal from the app, or upload any video from any source to your account. And of course, you can create a quiz from any of the videos that you are already hosting on ScreenPal.
Visit your Content Library to upload any video from your computer or select a video in your account and add a quiz. You can add a quiz question at any point in your video, and you can add as many questions as you like. 
You can configure five different types of questions for your video quizzes:
Multiple choice

True/False

Short answer

Poll

Rating
Within each of these question types, you'll have additional options to customize your questions. You can randomize the order of answers, allow or prevent skipping of questions, give automatic feedback on the correct response, capture additional open ended answers, and view both individual and aggregate data for all quizzes. 
You have full control over who can view your videos and quizzes hosted on ScreenPal. Set your video quiz to private while you are configuring and testing, then choose from unlisted, password protected, or public. You can choose to allow anyone to take your quiz, or require either ScreenPal account login or choose custom data fields per quiz taker.
Brand and analyze your videos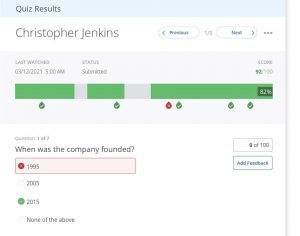 Customize the video player for your video quizzes on ScreenPal to match your brand colors, then host and share them on your own branded page or in custom video channels.
Video channels are a great way to organize and share digital course modules and training video series. You can also embed your video quizzes on your own website or blog with easy responsive embed code.

Track and optimize your videos with our improved video analytics tools. Track and compare total and unique views, monitor and understand viewer engagement with heatmaps, and get additional audience insights, including location, browser, and device.
Watch our video tutorial to see how easy it is to get started with interactive quizzes in ScreenPal! Quizzing is available on all ScreenPal Solo Max plans and new Team Business plans.