Anyone who's ever watched an employee training video knows they can be boring and difficult to follow. Your eyes glaze over, the video ends, and suddenly you realize you didn't learn a thing. 
Luckily, your team doesn't have to fall into the trap of bad videos ever again. With ScreenPal's green screen tool, you can create a training video that's memorable and engaging and at the same time, help your team succeed on the job. 
Green Screen Videos For Everyone
Green screen, also known as chroma key, isn't just for Hollywood anymore. Marketers, schools, and even social media influencers use it every day to replace the background of their videos with the photo or video clip of their choice. That means you can pop up in front of a photo of the Eiffel Tower, a video clip from your team's last retreat, a screencast of your product demo, or even your Google Slides presentation. 
Green screen makes it easy to cut out all background distractions that might make your video hard to follow, which is perfect for those working from home. There's no longer a need to pick up clutter before jumping on camera. 
The chroma key effect is a great way to allow viewers to see your face while you go through your training presentation. 
Even better, you don't need any experience to start using green screen with ScreenPal. You can enable this setting with a few easy clicks from the screen recorder or the video editor. There's no need to hire video experts or pay for expensive green screen software. You can get started right away and finish your project on time and under budget. 
5 Ways to Make Better Training Videos
If you want to start making more effective training videos for your team, follow these easy tips. 
1. Protect your privacy while working from home. 
Making videos while working remotely can be nerve-wracking if you'd rather people not see the clutter in your home office. This is an easy fix, and there's no cleaning involved. 
Just use a green screen backdrop to replace your background with the image, color, or video of your choice. For a professional look, choose a simple image with your company's branding colors. 
If your company already has branded slideshow templates, these work great as a green screen background. 
2. Make your training videos more visually engaging. 
Even if you're just be sitting still and talking during your training video, the green screen can help make your video more visually appealing by using a video clip as your background. Avoid anything too distracting, but even a simple clip of a sunny sky can provide a bit of warmth and movement to your video. 
You can also try changing your background once or twice throughout the video as you transition into new topics, just to provide a change of scenery. 
3. Support visual learners by showing slides as a background. 
People retain information better when you offer it in more than one way. 
In addition to narrating your video, create a slideshow to use as your green screen background. This way people can read your bullet points to follow along, and it will be easier for them to take notes.  
4. Illustrate complex tasks by showing a screencast in the background.
If you're teaching your team how to use software or how to do some other complex task, use a screencast as your background. It's easy to do— just record your explainer video with the screen recorder, then use the video maker to add helpful edits like arrows, text, highlights, and more. Finally, save your screencast so you can use it as your green screen background. 
5. Simulate an in-person conversation. 
If your training program includes information from more than one company leader, you can make your video feel extra personal with a technique borrowed from Oprah and former President Barack Obama. 
The two sat for an interview last year, but due to social distancing measures, they couldn't be together in person. Instead of letting that stop them, they recorded the interview on opposite sides of the country and used green screen special effects to make it appear as though they were really together in the same room. Here's how to do it yourself. 
How to add Green Screen to your videos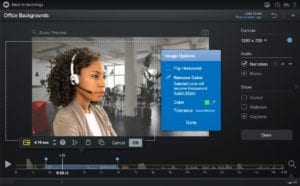 Ready to level up your training videos with green screen? There are two easy ways to do it.
To enable green screen while recording, set the screen recorder to record either just your 'webcam,' or 'both' your webcam and screen at the same time. Then click the pencil icon that appears on the upper right-hand corner of your screen. 
Next, select the option to remove your background. Choose which color you want to remove with the color picker. Then adjust the tolerance setting by dragging the slider.
Alternatively, you can record like normal, then enable green screen when it's time to edit your video. Just open your finished recording in the video editor. Enter edit mode and click on your video. Your timeline will be highlighted in blue and a menu will appear. In the menu, click "Options," then "Remove color." Use the color picker to choose which color to remove, and adjust with the slider. 
Now you're ready to add an image or video to your background. From your tools menu, click "Overlay," then select image or video. Upload the file from your computer, previous recordings, or our free stock photo library. Select your file and it will be added over the top of your video. 
Finally, it's time to adjust the layering so the image or video you added becomes the background. Click and drag the corners of your overlay so that it covers the entire frame. Click "Main video," then select "Layering" from the menu. Drag and drop the added image or video beneath "Main video." That's it! Now you have an eye-catching green screen background.
Here's a guide to get started on your own green screen recording.
Help your team learn better from anywhere
The more engaging and memorable your training videos are, the more likely your team will be to retain the information they learn while watching. 
Adding green screen to your strategy won't add any significant cost or time investment to your video production, and it will save you from having to reteach old information over and over. From the visual learners to those who just need extra help staying focused, everyone on your team can benefit from green screen.