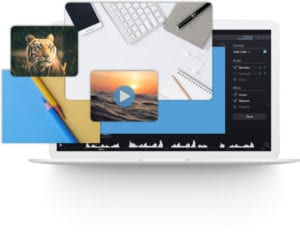 Stock video is a smart way to make your videos more engaging without filming extra footage yourself. If your video could use more movement or excitement, dropping in a quick clip will often do the trick. That said, it's essential to choose your content carefully. The wrong one can make your video feel awkward or even get you sued if you don't have the proper permissions. 
The good news is that ScreenPal's stock video library makes it easy to find the perfect clip for your video without worry. Follow this guide to get started.
Finding the Right Stock Video
What will stock video add to your video?
Ask yourself this question before searching through the stock library. More isn't always better. Would a video clip help keep your viewers focused on your presentation, or might it distract from your point? If you feel stock content will be a helpful addition, decide where you'd like to insert it. 
The ideal clip can help illustrate part of your narration, replace a subpar section of your existing video, or provide a specific visual aid related to your topic. Knowing your goal will make it easier to navigate the stock video library.
A quick tip:
If you're concerned a stock video might not get your point across, try a screenshot instead. Pull up the information you need to share on your screen and capture it with ScreenPal. Then head to the Image Editor to add text annotations, highlights, numbered steps, or shapes to help illustrate your information. Use the video editor to drop your screenshot right into your video.
Keep the style of your video consistent.
If your video's color palette is blue, yellow, and white, select a clip that matches. If your stock content feels out of step with the rest of your project, it will distract viewers. 
Make sure the action in your stock video complements your narration, too. In a video about college students,  videos of young children will look out of place. 
Use edits to make video clips work for you.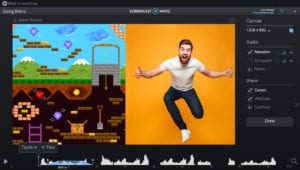 With the video editing software, you can add text animations, transitions, and your company's brand colors, font, and logos to make the stock clip look original.

If you're using your stock video to illustrate a process, you can add arrows and text to help viewers follow along. These edits will seamlessly integrate the stock video into your original recording. 
Use stock video sparingly.
Stock videos should be helpful additions to your project, not the entirety of it. Luckily, the screen recorder provides an easy, beginner-friendly way to record your screen, webcam, or both at the same time. You can also upload videos from your devices to the video editor for easy edits. 
Using your original material when possible will make your videos feel more creative. You can use the screen recorder on your phone, laptop, or tablet, so it couldn't be easier to create your unique work of art. Plus, you can always edit them to fit your style.
Protect yourself legally.
A stock video is never worth getting sued, so ScreenPal's stock library lets you search through a wide array of royalty-free photo and video content for your projects. Access the stock library with a Premier plan for unlimited access to the entire collection. 
Need inspiration for your next project?
Take a look through our expansive stock library to get your creative juices flowing, and check out some of our favorite ways to use stock content in projects.