You may be familiar with using slides for a live presentation, but did you know you can also use them to create video storyboards? From information videos to brand story videos and more, video storyboards are a great way to plan and build your video to maximize your visual content and create an engaging user experience. Plus, they can be easy to make using the right storyboard creator.
Luckily, you're in the right place. With our Stories tool, a world of possibilities awaits you for creating interactive video storyboards. You can import your presentation slides from Google Slides, PowerPoint, or Keynote into the storyboard creator in just 5 steps. And, with our quick and easy guide, you'll be an expert in no time.
What are video storyboards?
Video storyboarding is the process of creating a visual guide to plan your video. Storyboards were traditionally created on paper or boards, but now they can be created digitally on your computer as well. Storyboards are typically used in the planning phase of video creation, as it helps organize ideas and create an overall roadmap to follow when you record or edit the video. With our Stories tool though, you can do even more and actually build your video in the storyboard view.
Video storyboarding can also be applied to educational videos, marketing videos, corporate presentations, training videos, and any other video you would like to plan out and organize. In fact, it can work for any industry and type of video. All you need is the right digital storyboard creation software, like Stories!
Benefits of using slides for storyboards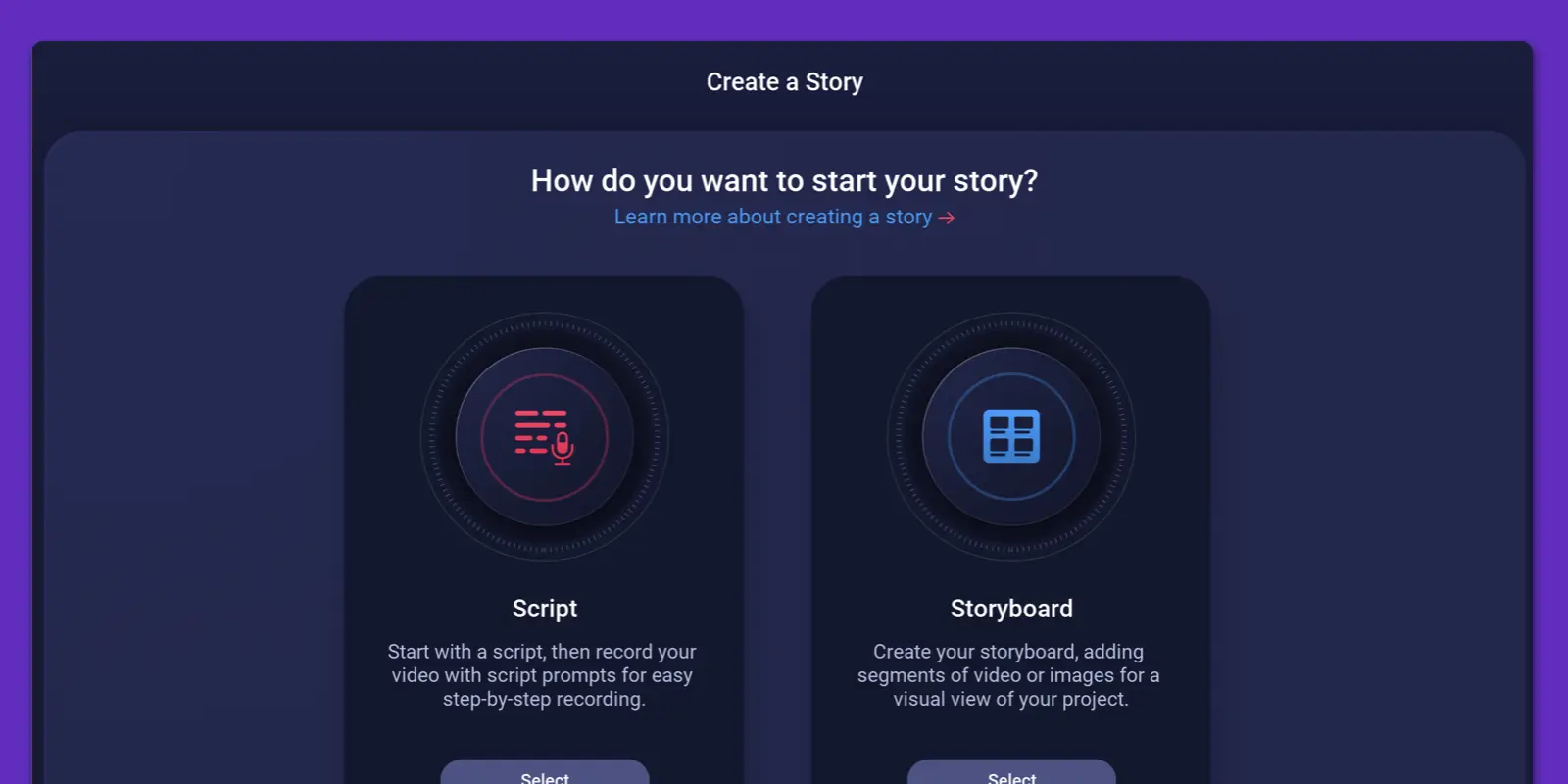 Whether you're creating a video for educational or marketing purposes, storyboarding can help you plan your content section by section. But there's more to video storyboarding than just creating a visual outline.
As you plan out each section of your video, you'll be able to consider the type of content—including text, images, videos, and audio clips—you want to include. That way, you can ensure that everything flows well throughout the video and is easy for viewers to understand. And by importing your presentation slides as your storyboard, it can also quickly provide you with information that can be shown in your video.
Here are just a few benefits of using presentation slides for video storyboards.
Organize your ideas
When creating videos, it's important to ensure that each scene is purposeful and moves the narrative forward in an easy-to-understand way for the audience. But it can be hard to envision the full video content—especially if you're starting from scratch with a blank canvas.
That's why video storyboards are so helpful. As you add video sections and plan out the content for each one, you'll have a better idea of how your video would look once it's complete. That way, you can maximize your time editing and perfecting your video to make sure everything flows well from start to finish.
When you're done building your video with ScreenPal Stories, you'll be able to quickly export the video and share it on social media or other platforms. It's easy to get started, and the Stories storyboard creator is available for all paid plans.
Repurpose content
It takes time to create a high-quality, engaging presentation in Google Slides, PowerPoint, or other slide software. You can get more out of your time and effort by quickly repurposing your slide presentation as a video content as well.
When you create a video storyboard in Stories, you can take existing slides or PDF documents and turn them into an engaging visual experience. By importing your presentation slides as a storyboard, you can reuse your pre-existing slide content in a video format to help it appeal to more viewers. Each slide becomes a separate section of your storyboard that you can rearrange or expand on so you can easily plan out and build your video.
When you're done storyboarding, you can easily export the video as an MP4 or other video format and share it with your audience. It's a great way to repurpose your slide content and quickly turn it into something new—ensuring that your audience gets the most out of your created visuals.
Save time creating videos
Creating videos can be time-consuming, especially if you're starting from scratch. But you can use the storyboard view in the Stories tool to quickly import presentation slides and turn them into video sections. You can also customize each section with titles, text, images, videos, audio clips, and more—so you have control over how your video looks.
You can quickly and easily create engaging videos, allowing you more time to focus on enhancing the content with edits and special effects. When you import your presentation slides as a video storyboard, you'll have a visual map of what your video should look like and content from your slides to use in your video as a starting point. The video creation process will be more efficient because you'll be able to be sure to include all the essential information in the video and keep your content in order.
Easily collaborate with others
Starting with a storyboard is a fantastic way to collaborate on video creation if you have limited time. You can quickly and easily share the storyboard with other team members and notes or script information so they can easily understand the video concept as help they build each section. You can then review their contributions and make edits to ensure the story is complete and viewers can understand the full message of your video.
Importing your slides as a video storyboard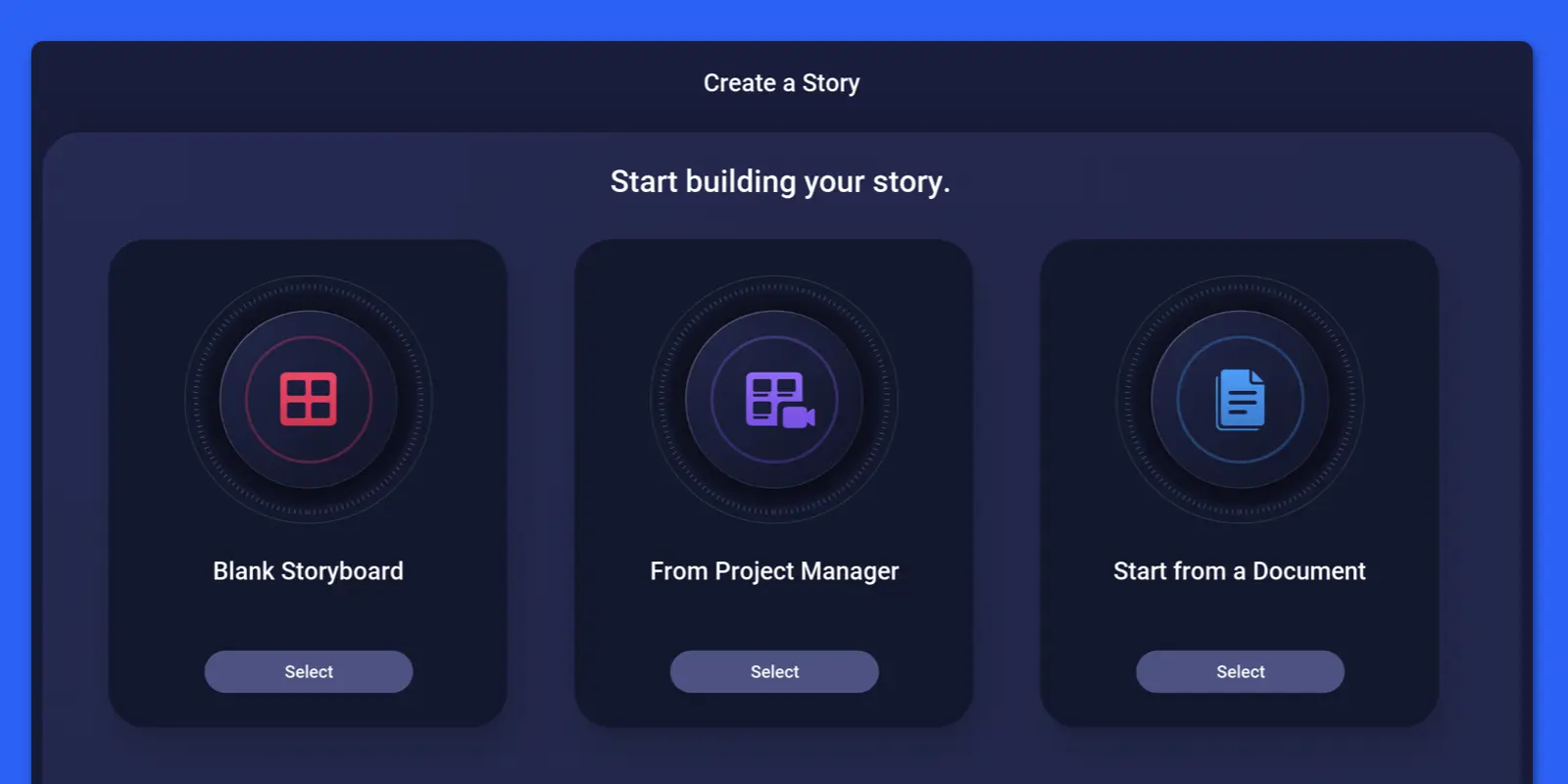 Creating video storyboards on paper can be tedious, but creating interactive, digital storyboards with our Stories tool can be quick and easy. You can quickly turn your slides into an engaging video experience by importing existing presentation slides as a storyboard.
First, you'll need to open the Storyboard view of our Stories tool, located within our project manager.
You'll have a few options for importing your presentation slides once you're in the Stories tool: using a blank storyboard, from the project manager, or starting from an existing document. To import your presentation slides, you'll use the option to "Start from a Document".
Depending on whether you're importing from PowerPoint, Google Slides, or Keynote, you'll have different options for importing. See below for steps on how to import each type of slide presentation into the Stories tool.
Google Slides
To begin, click the Story button located near the top right of the Project Manager.

Select the "Start with Storyboard" option.

Then select the "Start from a Document" button.

Click on the "Connect and Choose from Google Drive" button. (If you've already logged in to Google, then this button will say, "Choose from Google Drive." If you haven't connected your Google account to ScreenPal before, click Launch web browser on the dialog that says Add Google Drive Account. Follow the directions given to connect your account. After you are finished, a message will appear telling you that access has been granted successfully.)

Choose the Google Slides presentation you want to import from your Google Drive and click "OK."
Result: The Google Slides presentation will be imported into the Stories tool and set up in the storyboard view with each slide being its own section. By default, sections are given three seconds of video time, but this can be adjusted to fit your content if you add narration or webcam footage.
Microsoft PowerPoint and Keynote
To import a Microsoft PowerPoint or Keynote presentation, you first need to save it as a PDF on your computer. Then, follow the below steps to import the PDF into Story.
At the top of the Project Manager, click on the Story button.

Begin by selecting the "Start the Storyboard" option.'

Hit "Start from a Document."

To select your files, click "Choose from My Files." By doing so, File Explorer will open.

Find the PDF of your PowerPoint or Keynote presentation and click OK.
Result: The PDF will be displayed in a storyboard format, with each page of the PDF having its own dedicated Story section. By default, each section is given three seconds of video duration; however, if you add narration or a webcam recording, the time allotment for that particular section will increase to adapt your content.
Finish building your video with Stories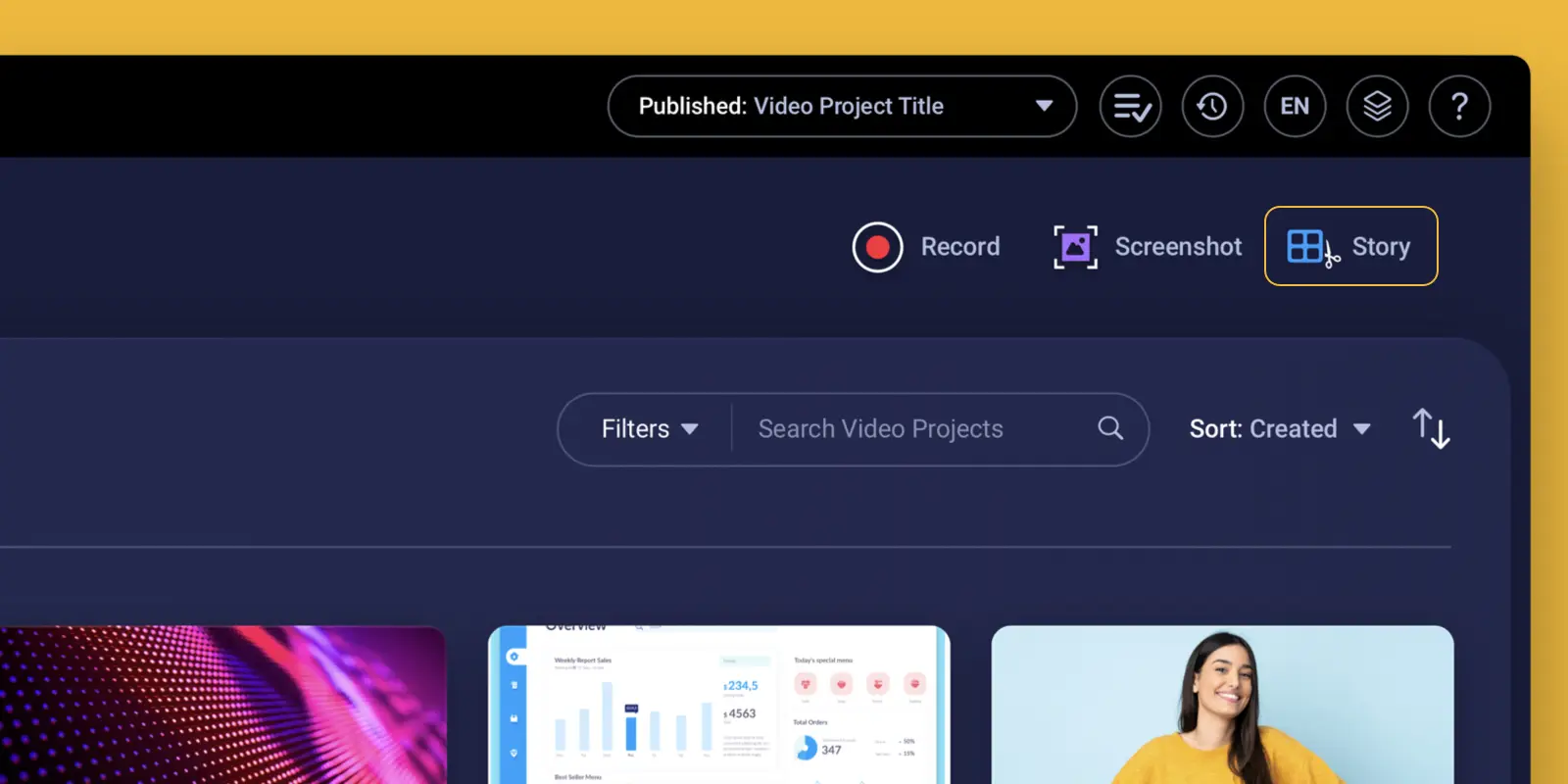 Now that you have your presentation slides imported as a storyboard, let's discuss how to finish completing your video within the Stories tool. You can access all the great features of our screen recorder by clicking the "Record Webcam" link and our full video editor features by clicking the "Edit Video" link on each video section of the storyboard.
A great feature of the Stories tool is that you can easily add a new section to the video between existing sections. This allows you to quickly edit the storyboard and rearrange sections within the video. Simply click the "More Options" button at the top right of a video section, and then click "Add Section Left" or "Add Section Right."
You can also toggle between your video storyboard and a script view, allowing you to see your video in both text format and as a visual storyboard. This feature makes it easy to make quick edits, such as adding text or photos and rearranging sections within the video.
Also, if you want to add elements to your video, such as music or webcam footage, the Stories tool has you covered. You can easily edit sections, drag and drop sections of your video for easy reordering, add sections of webcam recording or picture-in-picture (PIP), and more.
Once you're finished, your video is ready to be saved for sharing. That's how easy it is to build a video when starting with presentation slides as a storyboard in the Stories tool! Try it out today and see how quickly you can create a great video storyboard.
5 types of videos you can create from slides
Presentation videos are a great way to share information and engage with your audience. From flipped classroom lessons to training videos for businesses, presentation video ideas are versatile and powerful.
Here are just a few ways you can turn presentation slides into powerful videos.
Brand story video
Brand story videos are a great way to showcase your company or organization's mission, values, and history. You can easily document your brand information using slides, and you may even have this information in a slide presentation format already. Use slides as a storyboard to weave together video clips, narration, quotes, music, images, and text to create an engaging presentation video that conveys the core of your brand or story.
When you're creating a brand story video, it's important to make sure the sections of your video storyboard flow smoothly from one another. Incorporate elements such as transitions, text overlays, and creative camera angles to take your brand story video to the next level.
When you do this, your presentation video can become a powerful marketing tool that builds curiosity, broadens awareness, and drives engagement.
Informational video
Have you ever wanted to share facts, figures, and statistics in an engaging way? Informational and fact videos are a great way to do that.
You can create an informational video by including text, images, photos, graphics, and charts from a slide presentation. Using your slides as a storyboard will help you create your video in the most efficient way possible and allows you to easily rearrange sections or add additional elements.
Training videos
Training videos are great to create content for both educators and businesses. Educators can turn presentation slides into step-by-step how-to tutorial videos to easily explain complex topics to their students. Or use presentation slides to quickly create professional development and continuing education videos.
Business professionals can quickly turn their presentation slides into employee training videos, including skill development and HR compliance videos. Business professionals can also repurpose webinar slides as interactive storyboards to create videos or create promotional materials, such as product demo videos. Using a storyboard for training videos can help you create content that is easy to understand and memorable.
Event presentation video
If you're speaking at a conference or event, it's common to present your information in slide format. You can easily repurpose your slides and share your information to your audience as a video as well.
You can import your presentation slides as a storyboard that includes your visuals and then add an audio narration for further context. This allows you to share the information with others after the event as well as expand your potential audience. And by starting with a storyboard, it's easy to rearrange sections or add effects like highlighting, text, music and more to further explain your topic.
Personal introduction video
Introduction videos are a great way to introduce yourself or your coworkers, students, and other types of audiences. With an introduction video, you can showcase key information, visuals, and your personality.
Arrange your information in slides and then import them as a storyboard to quickly and easily start creating your video. The storyboard view can help you organize and build all of the elements of your introduction video, such as photos and video clips, text overlays, music, and more. This will help you create a cohesive video that conveys who you are and what's important to you.
A great introduction video can be used to increase engagement with prospects, customers, coworkers, and more. You could even collaborate with others and compile personal introductions from many people to form a company "about us" video as well.
These are just a few examples of presentation video ideas that can be created using a storyboard. With the right tools and content, these types of videos can become powerful marketing tools and educational resources for your target audience.
Start turning your slides into videos!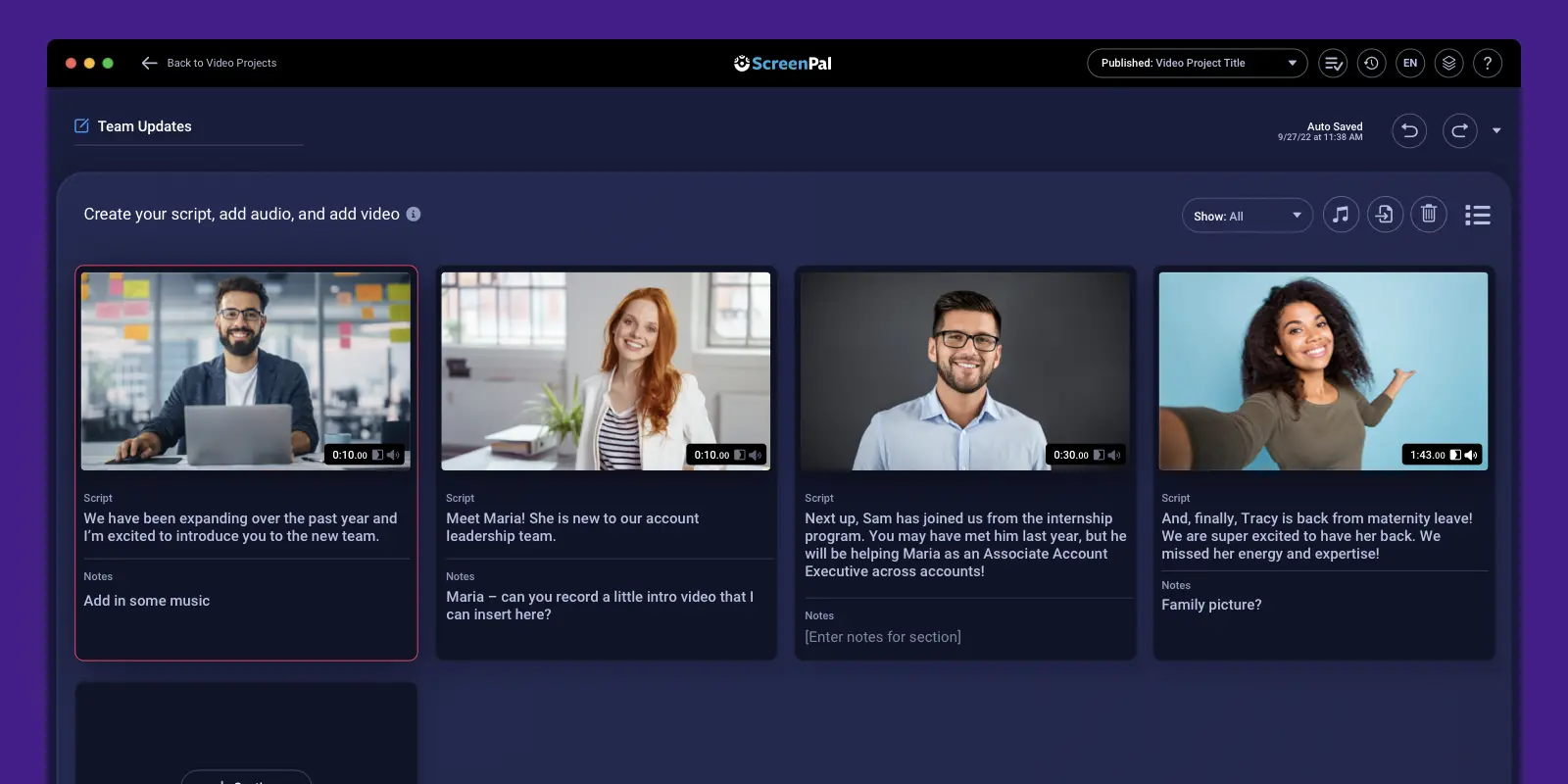 Creating presentation videos is easier than ever with our Stories tool. Import your slides into our storyboard creator to quickly organize key elements of your video, including text, images, photos, graphics, and video clips and create powerful videos that engage your audience.
Turning your presentations slides into a video storyboard will help you save time by improving the video planning, collaboration, and editing process. So whether you're creating an informational video, tutorial, product demo, introduction video, or any other type of presentation, Stories can help make the video creation process faster and easier.
Try using Stories for your video storyboards today, available with any ScreenPal paid plan, and start creating powerful presentation videos that engage your audience. With our easy-to-use tools, you'll be able to quickly create compelling videos for your audience.