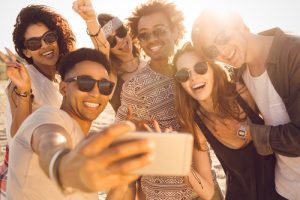 Summer days are long, but the season is too short for most of us. Celebrate the best of summer with video. Here are some fun ideas to get you started, whether you're creating for fun, social media, or business. 
You can make any of these videos in ScreenPal's easy-to-use video editor. You can upload your video and add text, image and shape overlays, animations, effects, and music for free.
Summer video ideas
1. Graduation

It's not too late to make a graduation video. Create a quick, authentic video message to congratulate your graduate with ScreenPal, or bring your graduation day clips into the video editor to make a graduation day montage. 
2. School year wrap-up
Gather together your favorite clips and photos from the school year, merge them in the video editor, and add some music for a short school year highlights video to share with family. If you're an educator, a wrap-up video is a great way to share your favorite memories of your class with parents and students.
3. Summer vacation video
Summer vacations are all about relaxation. And the best summer videos help you relive that feeling of relaxation once you're back at school or the office. First, capture those fun family moments on your smartphone or camera. Then, when you're back home, pull together your best video clips and photos to make a vacation highlights video or a favorite day video. Taking a staycation? Capture and share those memories with video, too! 
4. Travel videos

Have you been planning that bucket list trip for this summer? Are you exploring a new national park or traveling to a country you've never visited before? You'll want to capture plenty of video footage to remember your trip and share that amazing experience with others.
If you're a YouTube creator looking for summer video ideas, you can get multiple videos out of your summer travel, in addition to a recap video of your trip. Here are a few fun ideas for YouTube travel videos to get you started:
Summer bucket list ideas

Travel planning tips

Road trip or travel vlog

Travel guides and reviews

Favorite travel food stories

Must-see stops and adventures

Unique and amazing sites
5. Summer memories
Even if you don't have a vacation planned, you'll still have summer evenings and weekends of summer food and fun. Birthdays, family reunions, day trips, and long summer evenings make for memories to capture and share with video for a lifetime. 
6. Wedding videos
Summer is wedding season. You can make videos announcing your engagement, trying on wedding dresses, showing off the cake, and more. You can create a beautiful wedding video montage in the video editor with your favorite photos and video clips from the day. Then, add your wedding song as the music track and animated text for a video as unique as your day. Wedding and engagement videos make great and unique invitations and thank yous too!
7. Summer recipes videos

What's not to love about summer picnics, barbeques, and get-togethers? Maybe you're a foodie who loves to try new recipes with fresh, local produce. Or perhaps you have favorite summer dishes that your family looks forward to each year. Food and recipe videos are hugely popular on social media and an easy, fun way to share the meals you love with your friends and followers. 
Some creators might spend more time on their recipe video than on the actual dish. Still, summer recipe videos don't have to be complicated. Upload a video clip of your final dish and add your recipe as text or captions. Take it up a level by inserting multiple clips of your process in the video editor and narrating them to create an easy-to-follow cooking video. You can even add automated speech-to-text captions from your narration so that anyone can follow along and recreate your special summer dishes.
8. Summer YouTube videos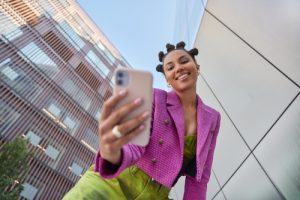 Summer is a great time to make YouTube videos. All of the summer video ideas in this blog can be shared on YouTube, especially the vacation, travel, and recipe video ideas. Search for summer video ideas on YouTube or use a free YouTube keyword tool to research topics with good search volume. You can also ask your viewers to share what they'd like to see from you in the comments. 
Summer is a great time to start a vlog on YouTube if you don't already have one. You can also create summer versions of popular YouTube video categories, like summer fashion videos, summer makeup videos, summer routine videos, and summer goals or bucket list ideas. Check out these YouTube video ideas for more ways to grow your channel.
9. Summer promo videos
Summer is the perfect time to use video to engage your customers and grow your business! Summer holidays are ideal times for promotions and social media videos to connect with your followers and grow your channels. 
You can get all of the inspiration and media clips you need for summer promo videos in ScreenPal's newly expanded royalty-free stock library. The premium library now includes 7 million more Shutterstock images and video clips available in Solo Max and Team plans. So explore stock media for Father's Day, Pride Month, and summer to find the perfect clips for your promo videos.
How to make a summer video:
Step 1. Open your video clip in the editor
Start on the ScreenPal website, and click the button to choose your video clip to edit. You can edit MP4, MOV, or web-m formatted video files.
If you have multiple video clips that you want to merge into your video, choose your first video to start with. After that, you can insert or overlay additional video clips in the video editor at any time.
Next, click the "Edit video" link under "Recent videos" to start. First-time users will be prompted to download and launch the app.
Step 2. Edit your summer video
Add videos and photos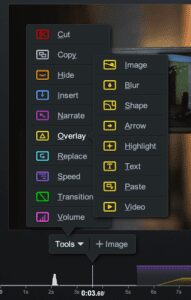 You can easily merge multiple video clips for a summer video montage. You can also add photos as overlays to create a photo slideshow with music (think wedding videos!). To add additional videos, move your cursor to the end of your initial video clip, then use the Insert tool to insert your next video clip. It's that easy to add videos together.
You can use the Overlay tool to add photos and images to your summer video. You can easily resize, crop, and animate your summer vacation, wedding, or travel photos to make a photo grid, or overlay photos one after another for a photo slideshow. 
If you don't have your own videos or photos to use, or if you're looking for that perfect clip to round out your video, that's where ScreenPal's royalty-free, licensed stock library comes in. You can find the perfect summer stock video clips or images to add as an intro, background, or as a complement to your own personal video clips.
Add and customize text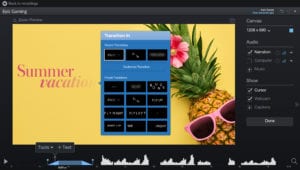 Add rich text to any part of your video to create an intro or add context to the scenes in your video story. Customize your text font, color, background, and styling to make your summer video stand out. 
You can easily add built-in animations to your text. If you're creating summer promo videos or other summer marketing videos, animated text will help your video stop the scroll and stand out from the competition.
Add music to your summer video
Finish your video with the perfect music clip. You can import your own music or choose from ScreenPal's built-in royalty-free stock music library. There's a range of completely free music available in the video editor and an expanded premium library in each of the paid plans.
Step 3. Share your summer video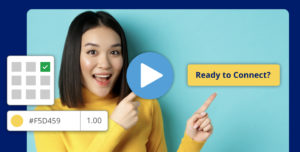 Save your video to your computer to share, or upload it to ScreenPal for free to share a link to your video. 
When you upload your video and host it on ScreenPal, you can enable comments on your video. Your friends and family can add their own text or video comments to your summer memories.
For small businesses, hosting your summer marketing videos on ScreenPal enables you to easily embed your videos on your website with high-quality playback and an ad-free video player. With select paid plans, you can also customize the video player to match your brand colors and add call-to-action buttons so your viewers can simply click from your video to whatever action you would like them to take next. 
☀️☀️☀️
However you spend your summer, video is a great way to capture memories, share ideas, and celebrate the season. So get started today with ScreenPal's free video editor!