All of your favorite video editing tools are now in the palm of your hand with the best video editing app for iPhone and Android Mobile. It's perfect for remote workers or on-the-go employees. It means you no longer need to transfer screen recordings between your smartphone and computer to make changes to your videos.
So maximize your work schedule by reimagining what your phone can do. The possibilities might surprise you.
Here are the 5 best ways to use a mobile video editing app for your business:
1. Mobile App Feedback
Keep your mobile app rollout on track by quickly offering updates for your team. The combined screen recorder and video editing app makes this possible on your smartphone.
Developers and user experience testers can use ScreenPal to capture real-time video of their own app while beta testing. The editing tools can be used to highlight and emphasize issues. Add narration, overlay text and shapes and quickly share the video to pinpoint problems without having to transfer your project to a computer.
Try This
Optimize you viewers time and attention by adjusting the video speed. Once in the editing app,  use the speed tool to speed up your video for faster viewing.  You can opt to remove the audio, for example to redo narration, or keep the original track.
2. Mobile Troubleshooting
Screen recording on your cell phone is a great way to capture real-time app or mobile website issues. Encourage customers or employees to capture mobile-specific problems using our free mobile screen recorder (Android and IOS).
If narration was not added while recording, it's easy to add post-capture in the editor.   A user reporting the bug can add shapes to the video and highlight the glitch with the overlay tool . For example, overlay shapes could be used to circle the error appearing on screen. Another option is adding an arrow overlay which can be used to show the exact location of a typo.
Try This
Many testers, especially your customers, may not know the best way to communicate a bug.   Create a sample screen recording and use the video editing app to create a sample bug report.  Share the video with your testers to set them on the right course when requesting feedback.
3. Social Marketing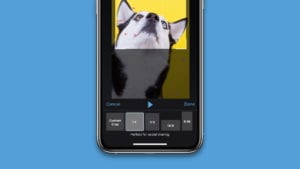 Step up your company's social media game by editing powerful visuals with a few quick edits. Editing video on your phone is ideal for creating Instagram, Twitter, TikTok, or Snapchat content. 
Users are able to customize the size of their video using the crop tool. For example, a 1:1 crop would be ideal for Instagram posts. However, users can choose between four other preset options or a custom video size.
Expand your brand's social posts by adding filters, text, and emoticons all within the app. Then export your video to share it on your preferred social platform.
Try This
Tap into our stock library to enhance your social media videos. Mobile users can access the stock images which allows you to search thousands of high-quality photos. You can also add background music to set the mood of your social video. 
4. Share Online Analytics 
Don't simply send charts and graphics.
Capture your company's success by screen recording important alerts featured on your online sales platform. Use a combination of mobile screen captures and editing to illustrate the story behind your gains. Play around with overlays to spruce up your analytics.
For example, if the analytics are focusing on a particular product, use the overlay "from my images" option to upload a photo of the product. Overlay images can also be used to add company branding.
Try This
Before you share any analytics, use the blur tool featured under the overlay tab to hide any personal or sensitive information.
5. Training Tutorials
Get all of your employees on the same page by creating mobile-friendly training videos. It's a smart way to introduce new employees to company communication channels like Slack, Zoom, or Microsoft Teams. Recording and editing the mobile view is ideal for employees who work remotely or travel often.
Recording how-to videos can also be useful when introducing veteran employees to technology being integrated into their work routine. Start simple by showing employees how to pull analytics or projects plans right from their cell phones.  Empower your to access work data wherever they need it.
Try This
Personalize training tutorials with the Facecam option in the mobile video editor. Facecam uses your mobile camera to record so you can narrate along with the video tutorial. Your camera image appears as a picture-in-picture throughout your video. 
Record and Edit With Our Screen Recording and Video Editing App
Going forward, skip the expensive or complex editing suites. Editing video is now inexpensive, simple, and mobile so anyone on your team can easily communicate using video.
It's ideal for remote workers or employees who are on-the-go. Your video project is accessible whether you're commuting on the subway, flying for a business trip, or in between meetings.
It's the perfect way to maximize time by editing visually stunning videos directly on your cell phone.