Make YouTube videos that get views and engagement with the free video editor built for any creator. Easily edit, add text, music, and animations, then upload directly to YouTube—free!
Highly rated by our community
Overall rating: 4.6 out of 5 based on 4,516 reviews.
Easy video editing for any YouTube creator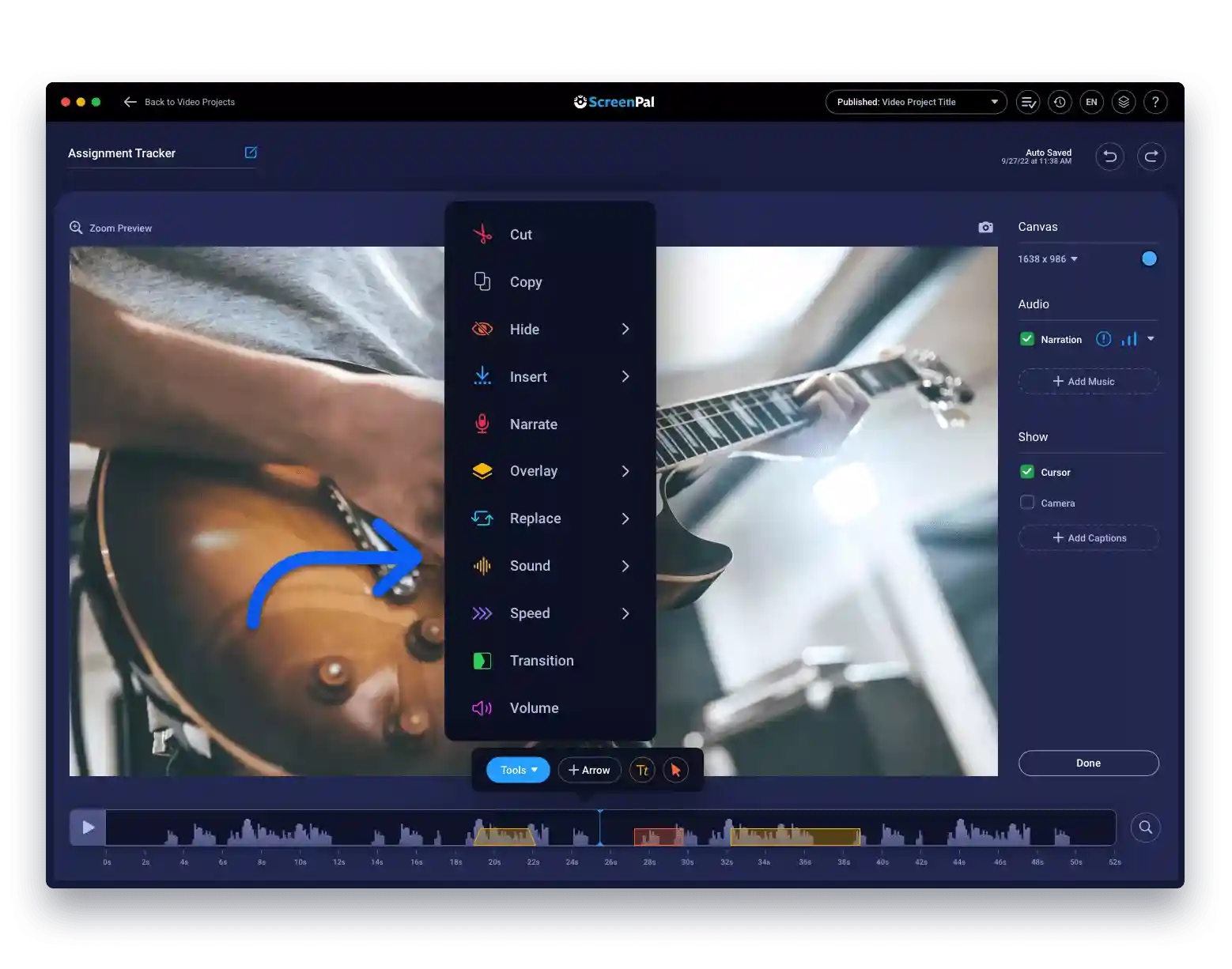 Free music & sound effects
Find the perfect royalty-free music clip for any type of YouTube video in our free music library. Easily record voiceover and add fun sound effects to keep your audience watching. 

Rich text, animations, & transitions
All the tools you need to make YouTube videos that get views and clicks. Add rich text, animations, transitions, and effects to enhance your videos and grow your YouTube channel.

Upload directly to YouTube channels
Save time and publish directly to YouTube from the video editor. Set your video title, tags, and description, and then click publish. Connect and manage multiple YouTube accounts. 
How to edit YouTube videos:

Upload your video
Upload your video and then launch the video editor on any device. You can edit YouTube videos with ScreenPal on Windows, MacOS, Chromebooks, iOS, and Android. You can also record your video using our free webcam and screen recorder.

Edit with video editing tools
Use our beginner-friendly video editing tools to make engaging YouTube videos. Trim, cut, and crop your video clips. Add rich text, unique transitions, and video effects like freeze frame and speed adjustments. Add music to your video from our free music and sound effects library.

Publish directly to YouTube
Upload your video to your YouTube channel directly from the video editor. Connect your YouTube account, set your video title, tags, description, and category, and then click Publish. You can also download your watermark-free video to your computer. Publish as many videos as you want for free.
Why choose ScreenPal for YouTube videos
You don't have to enter any personal information to edit YouTube videos for free. Just upload your video, click edit, launch the app and you're ready to go!
You can edit unlimited videos with no watermark and no ads. Make YouTube videos on Windows, Mac, Chromebook, Android, iPhone, and iPad. 
Save time and publish your videos to your YouTube channel from the video editor. No need to download and then upload. You can customize videos further in YouTube Studio. 
Record up to 15 minutes at a time in the free screen recorder. Capture your screen and webcam simultaneously, add voiceover, then upload to edit your recording for YouTube.
Record and edit voiceover narration, upload audio files, and choose from our built-in music library. Adjust audio volume and edit audio with options for ducking, normalization, and looping.
Find b-roll, backgrounds, and the perfect image and video clips for YouTube intros and outros in our premium library of over 7 million royalty-free stock media assets.