It's an amazing time for video creators of all kinds, especially everyday people who don't work in professional video production studios. High-quality video recordings can be made on smartphones at the press of a screen button. Point-and-shoot and DSLR cameras are more affordable than ever and can make cinematic-quality digital movies. Video editing software is easily made available online.  The options are nearly endless for individuals, educational institutions, and small businesses alike. 
The Search For Easy Video Editing Software
Video editing is something that can seem daunting to many due to the array of tools available. Built-in legacy software applications found in laptops and smartphones might be free.  Yet, they're not very adaptable and can generally only produce the most basic of videos. They're barely worth the effort.
TV news stations and film production companies use higher-end video editing software that is available to consumers. But they're expensive and frequently over-complicated with obscure features the general person will never need.
Thankfully, there's a third option: ScreenPal. They have a highly affordable and powerful Video Editor to create amazing videos from scratch.
Streamlined Editing at Your Fingertips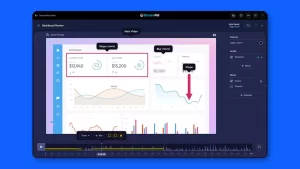 ScreenPal's easy video editing software is intuitive. It's the perfect choice for creating educational documentaries in elementary classrooms to graduate seminars. Families can use it to create histories of important life events. Vacation bloggers can create gorgeous travelogs to share experiences with friends. Foodies can share recipes. Small businesses can produce compelling and effective content marketing pieces.
ScreenPal is a one-stop solution for creating videos at school, home, or the office. Anywhere, really.
It allows for easy first-steps preparation with the Content Manager. This feature allows users to upload video files from computers or laptops. 
From here, it's off to the video editor timeline, where multiple multimedia files can be uploaded to create a narrative. You can import video and image files and compile them into your video story.
Features to enhance your videos
ScreenPal's tools can cut and trim video segments for the perfect length (while preserving prior work with an Edit History function). In addition, video segments can be enhanced with the Overlay option for adding text with custom fonts (including color and background colors).  Moving animations like arrows can be added for emphasis, as well as eye-catching transitions between scenes. There's even an impressive green screen function that allows users to customize backgrounds.
Of course, excellent audio is essential to any great video, too. With ScreenPal's online video editor, video creators can add narration, custom song files, or stock music. In addition, ScreenPal allows users to add captions to video works; this is important for many organizations that need to meet federal accessibility requirements.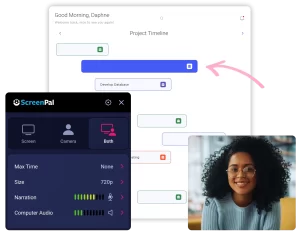 For another video recording option that's ideal in the educational, professional speaking and corporate training worlds is ScreenPal's Screen Recorder. Make perfect TED Talks-style presentations or campus-leading lectures by capturing imagery from any computer screen, including the handy screen-in-screen function. It allows users to appear in their screen-recorded videos, something that's handy for lessons designed to be viewed outside of the classroom or lecture hall. Other handy accessories include drawing tools, pan and zoom capabilities, automated captioning, and audio enhancements.
Sharing Videos with the World
Once videos are complete, ScreenPal makes it easy to share them across a full range of distribution channels. Bloggers can share their visions on Facebook and Twitter. YouTube and Vimeo are just a few clicks away, as is Dropbox. As a bonus, videos are securely saved with ScreenPal's private online backup restore feature. Users have the ability to access their videos on multiple devices.
With all these affordable and easy-to-use features, more user-generated videos are surely going to be created, shared, and enjoyed across the globe.
Try ScreenPal's Video Editor for Free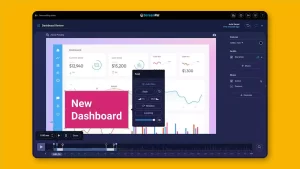 Are you looking to experience the features of the video editor? ScreenPal is providing a 30 day free trial on their Deluxe plan which includes access to its easy video editing software.  You'll be able to test out all the great features.  We've applied a watermark to any videos you publish. If you decide to purchase ScreenPal, you can publish all recordings without the watermark.
It's easy to get started! You can start editing within minutes.
Already a user?
Users who already have a ScreenPal account can activate their free video editor trial by going to their account page.  You will notice a button 'Try it for Free for 30 days'. Click on 'Open Video Editor' and follow the steps to activate your trial. 
New users
For new users to ScreenPal, you are in for a treat! To take advantage of this free 30-day trial, create an account on the website or head to our video editor page and click on the button 'Start My 30-day Trial.'  Follow the simple steps to create your account. Once you have confirmed your account via email, you'll have access to the video editor.
Take advantage of all the great features that this video editing software has to offer.  You have access to create amazing videos within minutes!
Quick Links:
Beginner's Guide to ScreenPal's Free Screen Recorder
5 Quick Tips for Editing Videos