YouTube is a powerful platform. From vloggers to product reviewers, beauty gurus to gaming channels, YouTube has something for everyone. And with over 14.3 billion visits per month, it's also an incredibly potent marketing tool.
YouTube is a learning resource, a place to sit for hours on end watching hilarious cat videos, and an all-in-one entertainment hub. But with the right YouTube marketing strategy, it can be so much more. It's a mighty business tool for promoting your brand, product, or service, and it's about time you started using it to its full potential.
In this post, we're going to guide you through the wonderful world of YouTube marketing, covering everything from creating a successful channel, to making engaging videos, to promoting them along the way. Whether you're a complete beginner or a seasoned YouTube pro, there's something for everyone in this guide.
So, without further ado, let's get started.
What Is YouTube Marketing?
YouTube marketing is as simple as it sounds; it's the process of using YouTube as a marketing tool. This can involve using YouTube to create and share content, promote and advertise your brand or product, and measure and analyze the success of your efforts.
When YouTube is used as a marketing tool, it can help businesses achieve a number of goals. Which smoothly brings us to our next point; why exactly does YouTube marketing matter?
Why Does YouTube Marketing Matter?
If you didn't already realize the potential of YouTube marketing, now's the time to sit up and take notice. As we mentioned at the start, YouTube boasts over a whopping 14.31 billion monthly visitors. Yes, billion. But believe it or not, that's not all it has to offer.
YouTube also: 
In other words, if you're not using YouTube as part of your marketing strategy, you're missing out on a huge chunk of potential customers. No other platform comes close to offering the same reach and engagement opportunities as this beast in the video world.
Still don't believe us? Tough crowd. Let's dive in even deeper!
The Benefits of YouTube Marketing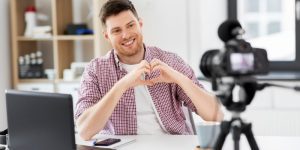 There are endless YouTube marketing benefits, but we're just going to focus on the big ones. After all, we could be here all day if we listed every single one.
YouTube Is Free (Most of the Time) 
We say most of the time because YouTube isn't completely free. You can create a YouTube channel and upload videos for free, but if you want to use some of YouTube's more powerful features (such as live streaming or advertising), then you'll need to pay. However, the cost is relatively low when compared to other marketing channels, so it's still an excellent option for businesses on a budget.
YouTube Reach Is HUGE and Can Acquire Any Audience
We really can't stress this enough. YouTube's reach is absolutely massive, and it continues to grow every day. With over two billion active users, there's a good chance your target market is already on YouTube.
It's clear that this incredible platform boasts a large and diverse demographic, but what about the audience that YouTube reaches on a global scale? Who are they exactly?
Well, according to FortuneLord's statistics:
16% are 45-54

8% are 50-64

11% of YouTube's audience is 18-24

23% are aged 25-34

26% are 35-44

3% are 65+
That's a pretty broad range, which is fantastic news for your business. No matter who your target market is, YouTube has the potential to reach them.
Affordable Advertising 
YouTube isn't just a powerful platform for marketing, it's also incredibly easy and affordable to get started. In fact, you can create and post videos without spending a single penny. And you can even promote YouTube videos and promote Youtube channels without breaking the bank. All you need is a little creativity, some time, and of course, our helpful guide.
Brand Awareness and Trust
Finally, in addition to its reach and traffic potential, YouTube marketing is also incredibly effective at building brand awareness and trust. With video as your medium, you can connect with customers on a personal level and really show them who you are as a business. It's the perfect platform for sharing your brand story, values, and mission.
Your initial goal is to make a connection with your customers and allow them to feel like they know you. Once you've achieved that, the trust will follow. And then you can start working on converting those YouTube viewers into paying customers. Did somebody say video marketing success? We sure did.
So, now that we've covered the basics, it's time to get started with your YouTube marketing strategy. Next up, we dive into how to create a YouTube channel that's sure to impress. Let's go!
Step One: YouTube Marketing Strategy
Before you do anything else, it's crucial to have a clear YouTube marketing strategy in place. What are your goals? What type of content will you be producing? Who is your target audience?
Gaining a good understanding of your objectives and target market is essential for any successful YouTube marketing campaign. You need to know who you're trying to reach and what you want to achieve before you can start making videos.
To help you get started, we've put together a quick YouTube marketing strategy checklist:
Set your goals

Define your target audience

Research your competition

Decide on your video format

Create a content calendar
Once you've ticked all these off, you're ready to create your YouTube channel and start making videos.
Step Two: Create a YouTube Channel 
Prior to making videos, you need to create a YouTube channel. This is where all your videos will live and will be the home of your soon-to-be amazing YouTube brand presence.
Your channel is essentially your online presence on YouTube, so it's important to make it look and feel professional. You want to create a positive first impression for potential viewers and show them that you're a credible source of information.
There are a few things you can do to make sure your YouTube channel looks great from the get-go:
Include a profile picture and cover photo

Create a banner design that represents your brand

Upload a channel trailer

Complete your YouTube about page

Configure your settings correctly

Create a custom YouTube channel URL

Complete your YouTube channel information

Add links to your website and social media accounts
Now that everything is set up, you're ready to start making videos. Enter the most exciting step of all; making YouTube videos.
Step Three: Produce YouTube Videos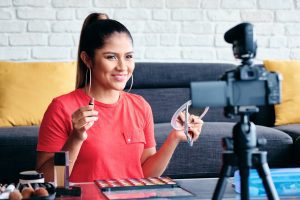 Now that you have a YouTube channel, it's time to start making videos. This is where the real fun begins!
When it comes to creating YouTube content, there are no hard and fast rules. You can make whatever type of videos you want, as long as they're relevant to your target audience and accomplish your goals.
How to Make a YouTube Video 
It's time to learn the basics. This section will briefly teach you how to create a YouTube video and what equipment you need to get started.
Hiring a professional videographer can be expensive, so if you're on a tight budget, you may want to consider filming and editing your videos yourself. YouTube has made it easier than ever to create high-quality videos with nothing more than a smartphone, but you still have to put in the time and effort to make sure your videos are well-scripted, well-shot, and engaging.
Before you start filming, there are a few things you need to do: 
Plan your video

Script your video

Storyboard your video

Choose a location
Equipment you'll need: 
A camera (smartphone, DSLR, webcam)

Tripod

Microphone

Lighting kit

Software for editing your videos (ScreenPal, Apple Final Cut Pro, Adobe Premiere Pro, Apple iMovie)
Now that you have a clear idea of what you want to do and all of the equipment you need, it's time to start filming. Here are a few tips to help you make your videos shine: 
Shoot in landscape mode

Keep your videos short and sweet

Make sure your audio is clear

Film in a well-lit location

Use props and costumes to add interest

Avoid shaky footage

Enhance video composition

Use comfortable on-camera talent

Film in small segments
Applications like ScreenPal have a free and easy-to-use screen recorder that allows users to record their screen, webcam, or both, as well as microphone and computer audio.
ScreenPal also has a free built-in video editor with direct upload to YouTube, making it an ideal, affordable solution for YouTuber creators as well as any business or entrepreneur looking to build their brand with YouTube marketing. This is an incredibly easy and affordable way to start creating high-definition YouTube videos, all while looking as if you have a professional video crew on staff.
We know this was short and sweet, so if you're looking for a full guide on how to make a YouTube video that's both interesting and engaging, we've got you covered. Check out our YouTube Video Creation Guide for tips and advice on producing high-quality YouTube videos.
YouTube Video Ideas 
We want you to be as creative as possible, but we definitely don't want to leave you hanging without any ideas. Here are a few YouTube video ideas to help get you started:
Interview your customers or clients

Create product reviews

Showcase your work or process

Do a "

tutorial

" on how to do something

Tell your brand story

Do a vlog (video blog)

Create an "explainer" video

Record a

testimonial

Share company news or announcements

Host a Q&A session
The type of video can vary from company to company, and from audience to audience. Therefore, it's essential to do your research and figure out what kind of videos will resonate with your target market. What works for one business may not work for another, so it's important to be creative and experiment with different types of content.
Here are some questions to consider when choosing the type of YouTube video you want to create:
Animated, live-action, or a mix of both?

Long-form or short-form videos?

Funny or serious tone?

Educational or entertaining content?

The professional quality or DIY style?
These are all critical questions to consider when coming up with YouTube video ideas. Once you have a good understanding of your audience and what type of content they're looking for, you'll be well on your way to creating successful YouTube videos.
For even more great ideas, check out our YouTube Video Ideas Guide. This comprehensive guide will give you all the ideas and inspiration you need to get started. 
Now that you know what type of YouTube videos to make, it's time to learn how to edit them. This is where you can really start putting your own spin on things and make your videos stand out from the rest.
How to Edit YouTube Videos
Ah, editing. The process that takes your raw footage and transforms it into a work of art. Okay, maybe that's a bit of an exaggeration, but editing is definitely an important part of the YouTube video-making process.
There are a few different ways you can edit your YouTube videos, depending on what type of equipment you're using and what level of editing you want to do. If you're using a computer, there are several video editing software options available, both free and paid.
Popular choices include ScreenPal, Adobe Premiere Pro, Final Cut Pro, and Sony Vegas Movie Studio. Some applications will provide you with more features and options than others, so it's important to choose the one that's right for you and your needs.
ScreenPal, for instance, will allow you to do editing like trimming and cutting, adding text and transitions, as well as recording your voice-over. It also includes a screen and webcam recorder, so it's excellent for creating how-to videos, product reviews, and tutorials. It's an all-in-one tool that makes YouTube video editing easy and fun.
If you're looking for professional editing software, something like Adobe Premiere Pro or Apple Final Cut Pro might also be a good option. These programs offer a wide range of features and options, giving you the ability to create complex videos with multiple layers.
Of course, with all that power comes a bit of a learning curve. If you're just starting out, we recommend choosing an easy-to-use software, like ScreenPal. However, it's important to remember that even top-of-the-line YouTubers look to save time when editing, so they also tend to go for apps like ScreenPal. 
It's all about working smarter, not harder. If you have an application that saves you time, makes life easy, is affordable, and still produces the same great results, then use it! You'd be crazy not to. 
Regardless of which program you choose, there are a few basic steps you'll need to follow in order to edit your YouTube videos. Here's a quick overview: 
Add title cards

Use annotations

Include calls to action

Add captions

Choose the right thumbnail
By following these simple tips, you can take your YouTube videos to the next level. For more detailed instructions on how to edit YouTube videos, check out our YouTube Video Editing Guide. It's the perfect resource for anyone who wants to learn more about editing their YouTube videos like a pro, and it includes insights on leveraging ScreenPal's thumbnail maker for creating captivating thumbnails that enhance the overall appeal of your content.
Best Ways to Promote YouTube Video and Channel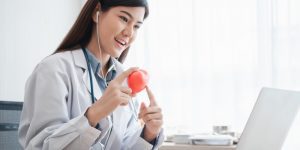 Now that you've made an awesome video, it's time to start promoting it and your channel so you can get those sweet, sweet views (and maybe even some subscribers). Here are a few tips on how to promote YouTube videos and channels. 
YouTube SEO
One of the best ways to promote YouTube channels and videos is by optimizing them for search engines. This process, known as YouTube SEO, involves adding keywords and tags to your videos which will help them rank higher in search results.
To do this, you'll need to carry out some robust keyword research. Start by brainstorming a list of potential keywords that people might use to search for your type of video. Then, use a tool like Google Keyword Planner, Ahrefs, or TubeBuddy to see how many people are actually searching for those terms.
Once you've found some high-traffic keywords, it's time to start adding them to your videos. You can do this in a few different ways:
In the title of your video

In the description of your video

In the tags for your video
By including these keywords in your videos, you can help them rank higher in search results and attract more viewers. Say hello to YouTube SEO success!
Optimize YouTube Videos
In addition to YouTube SEO, you can do several other things to optimize your videos and make them more likely to show up in search results. Here are a few quick tips:
Create transcripts of your videos and add them to the description. This will help your videos show up in search results for people who are looking for transcripts of your content.

Include a link to your website or blog in the description of your video. This will help you drive traffic back to your site.

Make sure your videos are properly tagged. Tagging is an essential part of YouTube SEO, so make sure you're doing it right.

Upload high-quality videos. This might seem like a no-brainer, but it's important to remember that YouTube ranks videos according to their quality. So make sure your videos are of the highest possible quality.
YouTube Ads
Another great way to promote YouTube videos is by using YouTube ads. YouTube ads are short, 15-second videos that play before other YouTube videos. They're a great way to get your video in front of more people, and they can be highly effective at driving traffic to your channel and videos.
To create a YouTube ad, you'll need to use Google AdWords. AdWords is a tool that allows you to create and manage advertising campaigns for your YouTube channel.
Creating a YouTube ad is simple:
Create a new campaign.

Choose your campaign goal – for example, sales, leads, or website traffic.

Select "video" as your campaign type.

Choose YouTube as your placement.

Set your budget and audience targeting.
From there, you can create your ad by uploading a video, creating a text-based ad, or choosing from one of Google's many pre-made templates.
It's a good idea to test out a few different ads to see which ones work best for your channel. YouTube offers a wide range of placements and targeting options, so you can tailor your ads to reach the right audience.
YouTube Promotions
There are a few different types of YouTube promotions, but the most common is called an "end screen." End screens are YouTube's version of an advertisement. They appear at the end of a video, and they usually include links to other videos or websites. You can create an end screen in Youtube Studio.
YouTube also offers a few other branding and promotion options, including watermarks and info cards. Watermarks are small images that appear in the corner of your video, and they usually link to another YouTube video or channel. Info cards are interactive elements that can be added to any part of your video and allow you to add clickable links to promote other videos and playlists.
All of this might seem a little daunting, but YouTube offers plenty of resources to help you get started. Be sure to check out their promotional guidelines for more information.
YouTube Analytics
YouTube Analytics is a powerful tool that can help you track the performance of your YouTube channel and videos. YouTube Analytics lets you see how many people are watching your videos, where they're coming from, and what they're interested in.
You can access YouTube Analytics by logging into your YouTube account and clicking on the "Analytics" tab. From there, you can see a variety of different reports, including your top videos, channels, and countries.
YouTube Analytics is a great way to track your progress and see how your channel is performing. By understanding your YouTube Analytics information, you can make changes to your channel and videos that will help you attract more viewers in the long run. 
Promote YouTube Channel Via Social Media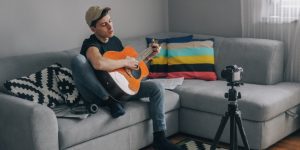 One of the best ways to promote YouTube channels is by using social media. Without stating the obvious, you can use the big names in the game like Facebook, Twitter, and Instagram. Discord is quickly becoming huge for NFTs and Crypto too, so it may be something to consider if you're looking to create a channel around digital currency. 
When promoting your YouTube channel on social media, it's essential to use high-quality images and videos. You should also always include a link to your channel in your posts so that people can easily find it.
It's also a good idea to post regularly and interact with other YouTube users. The more active you are on YouTube, the more likely people are to find and subscribe to your channel.
Run Contests and Giveaways
Let's face it, who doesn't love a good contest or giveaway? Offering prizes is a great way to promote YouTube channels and get people interested in your content.
There are a few different ways to run contests and giveaways on YouTube. One option is to create a video that promotes the contest or giveaway and post it on your channel. You can also promote the contest or giveaway on social media or on other websites.
Be sure to include all of the rules and requirements in the video so that people know what they need to do to enter. Also, ensure you're always regularly promoting your contests so that people don't forget about them. Oh! And make the prize a juicy one! 
Create Playlists to Organize Content 
Organization is always lovely to see. Ensure your viewers don't get lost by making your YouTube channel more organized and easier to navigate via playlists. Playlists allow you to group related videos together so that viewers can easily find what they're looking for.
You can create playlists for various purposes, such as promoting your channel, teaching a particular skill, or showcasing your work. Playlists are also a great way to keep track of your own videos.
When the time comes to create a playlist, YouTube makes it easy. Simply click on the "Create New Playlist" button and enter the information required. You can also add videos to an existing playlist by clicking on the "Add To" button.
Live Stream to Engage with Viewers
YouTube Live is a great way to engage with your viewers in real-time. You can use YouTube Live to stream events, show behind-the-scenes footage, or answer questions from viewers.
When it comes to live streaming, it's important to be interactive and engaging. You should make sure to answer questions from viewers and keep the conversation flowing.
YouTube Live is a great way to build relationships with your viewers and increase engagement on your channel. So be sure to try it out!
YouTube Channel Trainer 
We're almost there, but before you start promoting your YouTube channel, there's one more important step: creating a channel trailer.
A channel trailer is a short video (usually around 30 seconds) that introduces viewers to your channel. It should be high quality and give viewers a taste of what they can expect from your channel.
Your channel trailer is the first thing people will see when they visit your channel, so it's essential to make a good impression. Fortunately, YouTube offers a few different templates that you can use to create your channel trailer.
Collaboration Is Key
Last but certainly not least, collaboration is key when it comes to YouTube marketing. Collaborating with other YouTube creators who can help you promote your channel to reach a wider audience.
There are a few different ways to collaborate with other YouTube creators. One option is to create a joint video. This can be done by recording a video together or editing separate videos into one. You can also collaborate on a live stream.
Another great way to collaborate is by hosting a contest or giveaway together. This will help you reach a wider audience and generate more interest in your content.
Final Thoughts
Alas, we've come to the end of this guide. Your YouTube marketing journey starts here, and it's sure to be a long and fruitful one. Remember to keep these tips in mind as you create content and grow your channel. And most importantly, have fun!
At ScreenPal, we love helping people create great content. Video is about educating, making people laugh and smile, connecting those who would never have the opportunity to connect, and building a library of memories that will last long after we're gone. YouTube is one of those tools that can help us do all of those things, and so much more.
So, go out there and make some amazing content for the world to see! ScreenPal's free screen recorder and free video editor help you easily create, edit and communicate with videos and images. We provide you with simple and intuitive tools to share your ideas, so you can focus on what's important – your message. And if you ever need help, our team is always here for you.
Happy creating!
Check out our beginner's guide to find out how ScreenPal works, and how you can get started for free!