Building on the simplicity of our screen recorder, you now have access to a free set of tools in our video editing software.  Just with a click of a button, you can start editing videos now, and it's free! 
With our easy editor, you can create videos for tutorials, teaching, product demos, marketing, coaching, and more.  
Below we've listed some of the free editing tools you can use to transform your videos.
Easy Access to Free Video Editing Software
If you need to add images, text, narration, or shapes, you can do that in our editor.  The app empowers you to easily transform videos – you don't need to be an expert. The video editor is designed for everyone.
To start editing, head to the website and choose the video file you want to edit.  Once your file is selected, it's a simple click of the edit button to start editing.
Global Editing Tools
Global editing is great when you want to make edits that apply to your entire video. For example, you can make audio changes in one click vs. changing your audio in multiple sections of your video.
Crop, resize, and style
You can easily crop and resize your video.  You can even change the shape of your video and add a background color for styling.
Audio Options
Play with sound to spice up any video.
In addition to the sound in your video file, you can add a music track and audio narration to your video.  Each of these tracks can be edited. 
Add music to set the tone of your video. The free video editor includes a Stock Music Library. As a free user, you'll have at least three musical options in each category to choose from. 
You can select a track from the corporate music category for your next boardroom presentation. Or opt for something more playful. Try selecting a pop track when creating social media content. In all, you'll have 30 tracks to choose from. 
We provide full access to the Stock Music Library for users who upgrade.
Captions
Don't skip over the captions tool. 
It'll make your videos more accessible. The free video editor allows you to upload a captions file.
Consider adding captions even to social media content. Videos with captions are more likely to attract an audience because they don't need audio to watch.
You can do more with an upgrade.  Take advantage of our Interactive Captions Editor and type in your own captions or use speech-to-text technology to get it done.
Timeline Editing Tools
With Timeline Editing Tools, you can customize any section of your video.
These tools can be found in the 'Tools' menu above the editing timeline.  We'll highlight several free tools you can use on any video.
Cut to clean it up
You can cut multiple sections of your video with the Cut tool.
Add pauses where you need it
You are able to insert pauses anywhere on your timeline.  A pause is great to add as breaks between sections of your video.
Narrate for a personal touch
Click on Narrate to record your audio narration over a section of the video.  This is great to use when you need to update or replace an audio section of your video.
Add images, text, and shapes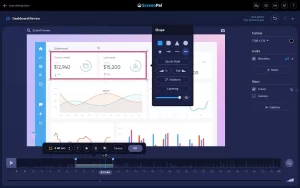 The Overlay tool allows you to add and style images, text, and shapes. Add multiple overlays then use the Layering tool to organize your layers.
With overlays, you can get creative with your videos.
Overlays are great for busy professionals and teachers who want to add context to their videos, and for people looking to get creative.  For example, you can use the overlay image tool to incorporate screenshots within your video messages.
Zoom and highlight for emphasis
You can also use highlight to add emphasis to a particular part of your video. Add zoom to increase the size of your highlighted area. 
Sound to excite your audience
The Sound tool allows you to add sound effects or music to any section of your video.
We've organized sound effects and music into genres.  You'll have access to three tracks from each genre.
Add in a laugh track to build fun into your video.  Choose a music track to set the mood for a section of your video.
Speed for more control
Speed gives you the control you need to speed up or slow down any section of your video.  This is great for how-to videos.  You can speed up sections of your video with just a few easy clicks.
Transitions for professional effects
Transitions are great to use when you want to 'transition' from one part of your video to another.  There's a  library of transitions to choose from.  You can use a simple 'fade' or add personality with a 'slide' transition. 
All-in-One Content Creation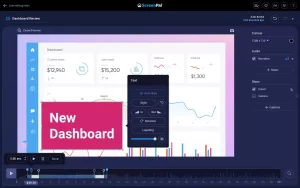 The free video editing software offers everything you need to create a polished video in minutes. No training or registration is required.
We provide you easy to use tools to create, enhance, and share your content. Capture your ideas, edit your images and videos, and share how you want. All for free!
So spark your creativity and start playing with ScreenPal. Now get set, ready, EDIT for free!