If you're an educator, business professional, or a blogger, there's never been a better time to share your ideas or messages in a video. With a smartphone camera; a plug-in webcam camera; the built-in lens of a laptop or an external DSLR camera, your amazing stories are ready to be recorded. Just add in an online video editor to complete your vision.
Here's a round-up of handy pro-level video tips that will help you create the most dynamic, appealing, and engaging videos possible, even if you're just getting started.
Set Up a Solid Scene
Whether you're recording in a classroom, an office, your home, or outdoors, controlling your surrounding environment is key to recording the best video. If possible, use a tripod or other securing device if you're using an external camera; avoid hand-held selfie sticks as they're unsteady. If you're using a laptop to record video, make sure it's set squarely on a flat surface away from any loose items that might bump against it; definitely, don't hold it while filming.
Try to ensure a quiet environment, including using rooms away from external noise. If outside, try to avoid recording at noisy locations like busy sidewalks. And always look for well-lit scenes, whether inside or outdoors, avoiding both shadowed and overly bright areas alike.
Get in the Narrative Flow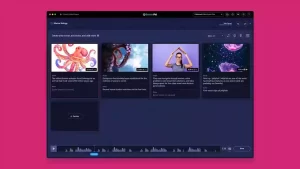 Planning is an absolute must in creating an excellent video—both in the recording stage and in the editing process. Before starting any project, create a folder in your computer to hold all the digital assets you'll use, from video files to images that you might add. Just as essential, write a script for your video. Now there may be times when the script isn't necessary.  For example, capturing lectures requires just the record button. 
But for the more thought-out videos, start with a basic list and talking points. If you need or want to improvise later, it will always work as a valuable base.
In your script, start with an introduction that provides a thumbnail of your video's overall message. Then, work in a linear A-B-C flow to introduce the details of your story. Wrap everything up with a conclusion. As you create more and more videos, experiment with new formats, such as mixing up your timeline.
One thing about ScreenPal is that it has a Scripted Recordings feature which you can access with a Deluxe plan.  Users are able to add a script in their video editor.  They can follow along and add a recording in each section of their script.  It keeps videos organized.
Recording Techniques that Win
When recording a video, such as an instructor giving a classroom lecture or a realtor introducing a home tour, pay attention to good lighting. Make sure there's an attractive blend of lighting in front and behind the subject. If your camera has White Balance control, experiment with its settings to get the best composition for each scene.
Good framing is just as essential. Avoid too many wide shots—they're often visually cluttered and distracting. Instead, rely more on a mix of close-up and medium shots from a few different angles. (Just don't overdo it on the angles; subtlety goes a long way.) The classic Rule of Thirds is a valuable approach, which keeps your subject to one side of the screen and creates natural space in the full 3×3 field of view. Centered face shots are often unflattering and can have an unnatural, canned feel.
While it might seem like a minor point, if you're recording detail shots to enhance your videos, make sure you record each segment for at least 15 seconds. This is a tried-and-true TV news technique that makes for the best editing and final product.
This is also a time to consider using a green screen, which allows narrators to appear in front of limitless backdrops, just like TV broadcasters in weather reports. ScreenPal's Green Screen feature is easy to use for removing your background and replacing it with something creative.  
Maximize the Editing Process
Want to emphasize specific aspects of your video? Adding text and graphics is especially useful, such as arrows. You can speed up or speed down sections. For sensitive or copyrighted imagery, blurring small sections of video scenes comes in handy. You can even add custom sound, narration, and captions.  ScreenPal's online video editor gives you all these capabilities so that you can enhance all of your videos.  
In combination, these tips—customized to your professional or personal needs—can help you to create amazing videos for any purpose.
Get ScreenPal Video Editor For Free
Are you looking to experience the features of the video editor? ScreenPal has a free video editor that you can launch from the website. You can use all the tools you need to enhance your videos.  If you're looking to do more like Green Screen, you can upgrade to Deluxe.
Take advantage of all the great features that this video editing software has to offer.  You have access to create amazing videos within minutes!
Quick Links:
Beginner's Guide to ScreenPal's Free Screen Recorder
5 Quick Tips for Editing Videos