Wondering how to start a YouTube channel? Well, this is the guide for you.
According to HootSuite, YouTube generates a whopping 1.7 billion unique monthly visitors. Your future customers are on YouTube, but how do you get them to see your videos?
Spoiler alert: it's all about developing and following a successful YouTube strategy.
Creating a YouTube channel allows you to access an entirely new platform where your audience is already engaging.
Being active on multiple media outlets (e.g. YouTube, Facebook, Instagram, and your blog) gets more eyes on your brand and business, converting into more leads and sales of your products and/or services. 
This blog post will cover why you should set up a YouTube channel for your brand, how to start a YouTube channel, how to grow your YouTube channel and ways to monetize your channel.
But let's start with the burning question: WHY? 
Why start a YouTube channel?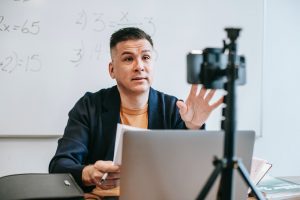 So, you've been toying with the idea of starting a YouTube channel. Whether you've seen competitors take the plunge and create their own videos, or you're just looking for new ways to strengthen your brand and sell more, starting a YouTube channel presents many benefits:
Educate and engage your audience
Develop trust and authority in your market
Get more eyes on your business
Deliver content in the format people prefer: video
All of these benefits tie to the same goal: helping you generate more traffic, sales, sign-ups, and/or conversions for your brand from YouTube.
If you already have a website, your YouTube channel can complement your site and expand your reach, especially when highlighting products or services.
Let's use the example of a fitness brand – you can show off new running shoes, review products, and provide viewers with general fitness tips to build trust with your brand.
And we all know that trust equals sales. 
Develop your YouTube strategy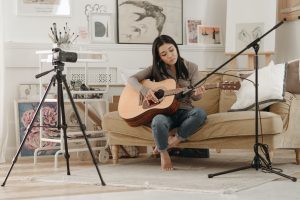 Without a strategy in place, you'll struggle to gain traction on YouTube, likely seeing little to no results.
Developing a YouTube strategy takes some work – there are lots of moving parts and aspects to consider. For example, you'll want to define your brand voice, create a consistent upload schedule, regularly analyze what's working and what's not working, and optimize each video for both YouTube and Google search.
Sounds complicated, right?
Well, we're going to split up the process of developing your YouTube strategy into three simple steps:
Create, edit, and upload YouTube videos
Engage and analyze your channel
Research video topics
The research portion of the strategy is essential when it comes to creating a successful YouTube channel for business.
Without proper research, you'll not only struggle to create content that will be seen by your audience, but your brand voice and tone could be completely off. You need to know your ideal target audience inside and out, what they enjoy, what they dislike, and what you can do to gain their trust.
To conduct proper research, you should research competitors, looking at how often they post, which videos perform the best, and what topics their content is centered around.
Analyze their most popular videos and read the comments, see what others have to say as this is your target market – leverage their feedback as a way to influence your own YouTube strategy and you'll already be a step ahead.
YouTube SEO and keyword research are key to developing your YouTube strategy. You can create videos that are related to popular topics and search terms that your target audience uses. You can use keyword research tools such as Ahrefs or TubeBuddy to find keywords and topic ideas that people are actually using in their searches. 
The result? An audience that will actively be searching for your video content.
Create, edit, and upload YouTube videos 
Once you've done your research, it's time to create your first video.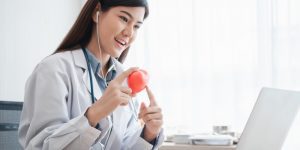 If you're creating a product demo, how-to video, or just need to record your screen, you'll need a screen recording tool such as ScreenPal. You can even add your webcam footage and audio to create a friendly, interactive, and high-quality videos.
Next up, you need to edit your video. We'll cover software options shortly, but what's important is that it looks professional, does not contain a watermark, and complies with all of the YouTube guidelines (not using others copyrighted music, avoiding or labeling sensitive content, no nudity, and so forth). 
When editing your videos, there are a few best practices you should follow, including:
Crop out the clutter

Incorporate your branding

Don't be afraid to be different!

Add a personal touch
Learn how to edit videos for YouTube for beginners.
Finally, it's time to post your videos. Make sure to use the keywords identified in your research in the title tag, description, and video tags. 
This will increase the search optimization on the YouTube website and app, and on Google. Once again, this is a way to get more eyes on your content. 
Engage and analyze 
Finally, we have the engaging and analyzing phase of the strategy. 
Engaging means responding to comments and feedback left on your videos. In the beginning, there may be a few comments. But listening to these and taking feedback on board is crucial to develop your audience further.
Analyzing, on the other hand, simply means seeing what works and what doesn't. You can use Youtube Analytics to see what you're doing well and what you could improve. Furthermore, this gives you insight into your existing audience to further tailor and optimize your content for your brand. 
Want more help developing your YouTube strategy? Check our Ultimate Guide to YouTube Marketing to learn how to plan, grow and promote your YouTube channel. 
Create your YouTube channel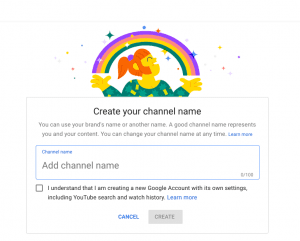 Creating your channel is the easy part. However, we'll still run you through the process. To create a YouTube channel:

Visit the

YouTube website on your computer

Click the gear icon in the top right-hand corner of the screen

Click create channel and set up your personal channel under your account name

Go to your

account

and click Create a Channel

Fill in your brand's channel name and click "Create" – this will create both your business's YouTube channel plus a

YouTube Brand account

to manage it
That's it! If you're creating a channel for your brand, then we recommend taking the extra step to create a business channel and Brand account. Creating a Brand account allows multiple users to access the account with their own email addresses, as opposed to a singular email address with a personal account.
Brand your channel
Once you've created your YouTube channel, you'll be met with a blank banner and logo. You should create brand graphics to meet the correct specifications (2560 x 1440 px for the banner and 800 x 800 px for the logo). 
Your brand colors should match on both the logo and the banner, further aligning to your overall brand guidelines.
You can also add social links to your website, other social media networks such as Instagram and Twitter, and other sites. If you have a website, then you should also connect to this.
Your banner should be relevant, ideally containing your brand or business name or even a slogan or short message about what you do. But don't overthink it! Often, simple is better – you don't need to write paragraphs about who you are and what you do.
Keep it simple. This is also a great rule for all aspects of branding.
YouTube video editing software
Once you've filmed or recorded your video and gathered together footage, you'll need to choose some YouTube video editing software to edit and create your videos. 
There are numerous options available, from free to expensive to everywhere in between. However, there are a few things to consider before purchasing the most expensive option:
What is your budget?

How much experience do you have in video editing?

What editing features are available?

Does the software offer full HD or 4K video?
Purchasing the most expensive software does not guarantee the highest-quality, well-edited videos. If only it did…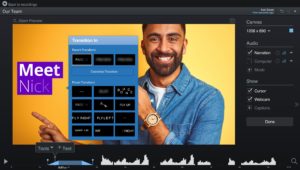 Instead, think about your experience level, your time (which is valuable!), and the types of YouTube videos you plan to create. So, if you're just beginning and have little experience, we recommend an easy-to-use and affordable option like the ScreenPal's video editor. 
It's free to use with no account required, does not display watermarks, and unlike other free video editing software options, is intuitive, easy to use, and integrates nicely with the ScreenPal screen recorder.
Our editing software is a great starting point, with no overhead, an easy learning curve, but plenty of freedom and features to make great videos.
For more tips on video editing, including how to choose the best software for you, you can read our top editing tips for YouTube videos.
Make YouTube videos
Arguably, creating the videos is one of the easier parts of the process. It's the research and editing that's the most difficult.
But how do you come up with video ideas?
You can create how-to videos, product demos, case studies, webinar recordings, and reviews, to name a few. For more ideas, be sure to check out our post on the best YouTube video ideas.
Assess the competition to see what content they're successfully creating and if you can produce something similar but with your own unique angle, look and feel. You can repurpose your blog posts into video content. Not only does this strengthen your blog, most likely improving user experience and decreasing bounce rates, but it drives more traffic to your website.
Another idea is to feature a customer story – perhaps your product changed the way they do business, made them a healthy profit, or maybe, helped them overcome an obstacle. These are all ideas that can be incorporated into a video.
See our comprehensive guide on how to make a YouTube video for beginners.
Monetize your YouTube channel
Now that you've created your YouTube channel and perhaps published your first few videos, you might be wondering how to monetize your channel. 
Besides, what's the point in creating videos if you don't get anything in return?
Well, the good news is that there are several ways to monetize your channel, some of which are more traditional and others that are a little more creative and indirect ways of generating additional income for your business.
Ways to monetize your YouTube channel include:
Link to your products/other services
YouTube ad revenue
To earn money from YouTube ad revenue, you first need to be eligible for the YouTube partner program.
You won't be able to claim this straight away, unless you're an overnight success. You'll need at least 1,000 subscribers, more than 4,000 public watch hours in the last twelve months, no community strikes, and access to a linked AdSense account.
For most businesses, though, ad revenue is not their primary source of income from YouTube. Instead, brands make money by linking and promoting their website for sales and other conversions from the popular streaming platform. 
Sponsored videos
The larger your channel or brand, the more sponsored opportunities you'll receive. For example, if you've watched any top content creator recently, then you've likely heard something along the lines of: "this video is sponsored by Squarespace" or other popular brands.
To obtain sponsored opportunities, you could reach out to companies, or alternatively, build a press package and post this on your website for those interested in reaching out.
Once again, don't expect sponsored video opportunities to appear overnight. But once they do appear, they can be quite lucrative. 
Channel memberships
If you have a large audience, you can offer channel memberships on the YouTube platform. This provides your regular viewers additional badges, titles, and other fun perks to show their support.
Channel memberships are still relatively new, but they can be a great way of supplementing income. But once again, you'll need over 1,000 subscribers before you can register for a YouTube channel membership. 
Link to your products/other services
Finally, brands' most popular monetization method is linking to their website and products/services.
For example, if you are a SaaS company, you can create videos showing how to use your product, with links to free trials, memberships, and your website in the description of your video.
This provides an excellent opportunity for you to showcase your product with direct links to encourage a viewer to take the next step through your sales funnel. 
Looking for more tips on how to start a YouTube channel? One successful YouTuber shared his top tips for creating YouTube content and monetizing your YouTube channel.
Optimize your YouTube channel
If you want people to find your amazing new video content, then you'll need to optimize your channel. 
There are various things you should optimize, but arguably the most important is what is known as YouTube SEO.
If you're familiar with regular search engine optimization (SEO), then this will be a piece of cake. However, if not, don't worry – we've got you covered.
YouTube SEO refers to using the correct keywords and filling out all the appropriate fields to increase impressions and video views. Essentially, it's a way to help people discover your content.
General best practices regarding YouTube SEO include:
Perform keyword research

Use the best keywords in your title tag, description, video category, and hashtags

Write optimized descriptions for each video

Use appropriate hashtags 

Enable subtitles (you may need to create these)

Create eye-catching thumbnails 
Taking the time to optimize your channel, mainly conducting the best keyword research and implementing these keywords, will help more people discover your channel and videos. Failure to optimize your channel will not only slow your growth, but people may never find your amazing content.
YouTube analytics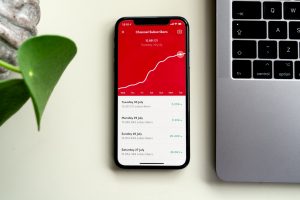 YouTube analytics is a tool that allows you to better understand your video and channel performance.
To access analytics, you'll need to sign in to YouTube Studio.
Once you've accessed YouTube Studio, you can view analytics for individual videos, alongside more broad channel metrics.
You can access this data from the "analytics" tab on the far left, and further details under the "content tab."
Using YouTube Analytics allows you to see what is working, what isn't working, and areas for improvement. For example, if one video performed particularly well, then you can adopt a similar approach, whether topic or style, in your next video.
It's all about finding out what works for you. You won't be able to find it right away, so you'll have to test and learn. It's all about the process.
Creating a successful YouTube channel 
Creating a YouTube channel for your brand is an excellent way to increase brand exposure, getting more eyes on your product or service. 
Setting up your channel is relatively easy, but developing a YouTube strategy and creating consistent videos that drive audience engagement is key to success on the platform.
So, what are you waiting for? Elevate your brand and create a YouTube channel for your business today to expand your reach, grow your audience and help your potential customers find you and your services. 
Get started making great YouTube videos for your channel with ScreenPal's free screen and webcam recorder and easy-to-use free video editor.